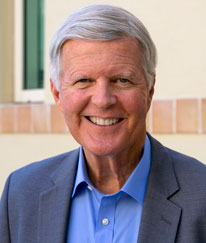 Dr. Thomas Campbell
Professor, Doy and Dee Henley Distinguished Professor of Jurisprudence

Dale E. Fowler School of Law
Expertise: Antitrust; Federal Trade Commission; Separation of Powers; Economics and the Law; Politics;
Office Location: Kennedy Hall 446
Education:

University of Chicago, Bachelor of Arts
Harvard University, Juris Doctor
University of Chicago, Ph.D.
Biography
Tom Campbell served as Dean of the Fowler School of Law from 2011 to 2016. He came to Chapman in January 2009 as a visiting Presidential Fellow and Fletcher Jones Distinguished Visiting Professor of Law. Prior to joining Chapman, he was the Bank of America Dean and Professor of Business from 2002 to 2008 at the Haas School of Business at the University of California, Berkeley. Tom was a Professor of Law at Stanford University from 1987-2002; Associate Professor at Stanford, 1983-1987; a member of the United States Congress from 1989-1993 and 1995-2001; a member of the California State Senate from 1993-1995; and the director of the California Department of Finance from 2004-2005. He has a B.A., M.A., and Ph.D. in economics from the University of Chicago, and a JD, magna cum laude, from Harvard Law School, where he also served as a member of the board of editors of the Harvard Law Review. He was a law clerk to United States Supreme Court Justice Byron White, and to US Court of Appeals Judge George E. MacKinnon; a White House Fellow; executive assistant to the Deputy Attorney General, Department of Justice; and director of the Bureau of Competition at the Federal Trade Commission.
Tom's principal area of academic work is in the application of economics to legal questions. He has published articles in the Harvard Law Review, the Columbia Law Review, the Stanford Law Review, the UCLA Law Review, the Texas Law Review, the Hastings Law Journal, and the Antitrust Law Journal, among others. He is the author of the book Separation of Powers in Practice, published by Stanford University Press (2004). Since 2001, Tom Campbell and his wife Susanne have taught in Africa as volunteers on seven separate occasions, in Ghana, Eritrea and Rwanda, where they taught courses in fundraising (Susanne) and international financial institutions, business strategy and constitutional law (Tom), at the following universities: Ashesi University, Accra, Ghana; Kigali Institute of Science and Technology, Kigali, Rwanda; School of Banking and Finance, Kigali, Rwanda; and the University of Asmara, Asmara, Eritrea
Courses Taught:
Antitrust Law, and Professional Responsibility.
Recent Creative, Scholarly Work and Publications

"Presidential Authority to Impose Tariffs," 83 Louisiana Law Review 595 (2023).

"Exclusive Representation in Public and Private Labor Law after Janus," T. Campbell, 70 Syracuse Law Review 731 (2020)

"Younger Federal District Court Judges Favor Presidential Power," T. Campbell & N. Wilcox, 63 Journal of Law and Economics 181 (2020).

"Introduction to Constraining the Executive," 21 Chapman L. Rev. 1 (2018). http://www.chapmanlawreview.com/archives

"Executive Action and NonAction," 95 North Carolina Law Review 553 (2017)

"Conditionality as Opposed to Inseverability," 64 EMORY L.J. ONLINE 2099 (2015).

"The E-Books Conspiracy: Crossing the Line Between Applying and Creating Law," 69 U. Miami L. Rev. Caveat 1 (2015).

"Afterword: Corporate Social Responsibility Symposium," 17 Chapman L. Rev. 579 (2014).

"Severability of Statutes," 62 Hastings Law Journal 1495 (2011).