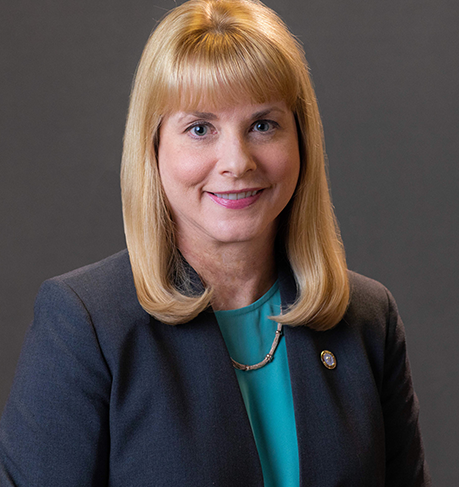 Dr. Roxanne Greitz Miller
Professor, Attallah College of Educational Studies
Dean, Attallah College of Educational Studies
Donna Ford Attallah Endowed Professor in Teacher Education

Attallah College of Educational Studies
Schmid College of Science and Technology
Expertise: Science Education; Secondary Education; Teacher Communication; Curriculum and Instruction;
Office Location: Reeves Hall
Education:

University of Miami, Bachelor of Science
Florida International University, Master of Science
Florida International University, Doctor of Education
Video Profile
Biography
Roxanne Greitz Miller was named Dean of the Attallah College of Educational Studies in February 2022. She also holds the Donna Ford Attallah Endowed Professorship in Teacher Education (2012-present). Dean Miller's prior university-wide leadership roles include Vice Provost for Graduate Education (2019-2022), Director of the Institute for Excellence in Teaching and Learning (IETL, 2015-2018) and President of the Faculty Senate (2013-2014). Within the Attallah College, Dean Miller formerly served as Assistant Dean of Undergraduate and Integrated Degree Programs (2014-2015) as well as Program Coordinator for the Secondary Teacher Education Credential Program and the Master of Arts in Teaching Secondary Emphasis Program (2008-2011). 
A member of Chapman's faculty since 2005, Dean Miller holds the rank of tenured full professor with a joint appointment to Schmid College of Science and Technology. In addition to her teaching at the undergraduate, masters, and doctoral levels, Dean Miller has served as principal or co-principal investigator on state and federal research grants representing more than $4.2 million in funding and has published numerous refereed articles, book chapters, and comprehensive historical abstracts. Her research centers on teacher professional development, the home-to-school connection, and STEM education. She previously served in national leadership roles as the chair-elect/chair of the Small Colleges Special Interest Group of the Professional and Organizational Developers (POD) Network (2017-2021), the Division K Teacher Education Program Co-Chair for the American Educational Research Association (AERA) from 2013-2016, and the contributing editor to NSTA's Science Scope middle grades journal from 2005-2009.
In 2008, Dean Miller was honored with Chapman's Valerie Scudder Award for excellence in teaching, scholarship, and research and in 2012 was awarded the Attallah Endowed Professorship. In 2014, Dean Miller received the Outstanding Teaching Professorship at Chapman, the university's highest honor in teaching, selected by a jury of tenured professors from across all academic areas at the university. She also represented Chapman in the Carnegie Foundation's 2014 U.S. Professor of the Year competition.
Despite her administrative responsibilities, research background and scholarly productivity, Dean Miller considers herself, first and foremost, to be a teacher. As she emphasizes to her students, "teaching is not what you do; it is who you are." She continues to hold current teaching credentials in biology, chemistry, middle grades, and gifted education in the states of Florida and California.
K-12 Teaching Experience
Dean Miller was a secondary science teacher at both the middle school and senior high levels for approximately 10 years, with nine of those years spent teaching in Title I schools in the highly diverse Miami-Dade County Public Schools. In addition to her classroom teaching, she coordinated the identification and eligibility for, and delivery of, special education and gifted education services to over 400 students each year in a highly diverse, large urban middle school in Miami.
In 2011-2012, Dean Miller went "back to middle school" for the full academic year as a Professor-in-Residence in a California middle school while on sabbatical, supporting the school's students, teachers, and administrators. She currently serves on the Orange Unified School District Master Plan Committee and regularly visits local schools to maintain currency in curriculum and instructional methods; during summer 2020, Dean Miller completed specific training in assistive technologies to expand her skills in serving students with moderate to extensive support needs.