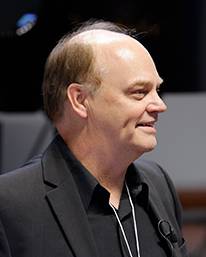 Dr. Ron Anderson
Lecturer
Piano
College of Performing Arts; Hall-Musco Conservatory of Music
Office Location: Bertea Hall 221
Office Location: Bertea Hall 221
Biography
Ron Anderson holds a doctoral degree in Piano Performance, as well as degrees in Opera and Composition, and has enjoyed successes in all three endeavors. In addition to his long list of operatic roles, he has been regularly featured as soloist (both as a pianist and a vocalist) in televised concerts with several orchestras throughout Southern California, including Torrance Symphony, the Marina Symphony, the Cypress Pops Orchestra, and the Redlands Bowl.
His compositions for orchestra, choir, chamber ensembles, piano solo, and voice have been received enthusiastically, having won competitions and critical acclaim. Most recently, his choral anthem "Wilt Thou Forgive?" was awarded First Prize in the 2017 Cerddorion Composers Competition, tied with Bernardino Zanetti of Italy. September of 2017 marks the premier of one of his latest compositions, "The Autumn Tree," for voice, cello, and piano (a setting of his own poetry), composed for the 70th Anniversary of MTAC, Pasadena Branch.
Dr. Anderson has taught at Chapman University, Biola University, Bethesda University, University of Arizona, CSU, Long Beach, and others. He has also maintained his own private studio, which has produced several winners in the National Chopin Foundation, MTNA, Composers Today, Robert Avalon International Competition for Composers, and others. He is in demand as an adjudicator and lecturer in a variety of musical disciplines and has judged for the MTNA Composition Competition, the Reno Youth Music Festival, the Yamaha International Junior Original Concert, and the Composers Today State Contest, and various piano competitions. Dr. Anderson serves as the State Chair for the Composers Today Young Composers Guild.