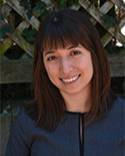 Dr. Richelle Tanner
Assistant Professor, Co-Director for the Faculty of Environmental Science and Policy

Schmid College of Science and Technology; Environmental Science
Wilkinson College of Arts, Humanities, and Social Sciences
Office Location: Keck Center for Science and Engineering 294
Education:

University of Southern California, Bachelor of Music
University of Southern California, Bachelor of Science
University of California, Berkeley, Ph.D.
Biography
Dr. Richelle Tanner is an Assistant Professor in the Environmental Science and Policy Program, jointly appointed to the Schmid and Wilkinson Colleges. She is broadly interested in how climate change affects both ecological and human communities, and our mechanisms of resilience. She uses tools from ecology, physiology, genomics, and the social sciences to ask questions about how coastal ecosystems can rapidly adapt to warming temperatures and more unpredictable extreme weather events.
Her current research projects include: 1) sea hare physiology and population dynamics for increasing eelgrass restoration efficacy under climate extremes, 2) socio-ecological best practices for collective action in Phragmites australis invasive species management, and 3) values-based communication strategies for science-informed policy across stakeholder groups in the California Delta.
Learn more about her research lab at www.seacrlab.com.
Dr. Tanner is also the Science Director at the National Network for Ocean and Climate Change Interpretation (www.nnocci.org) and the Reviews Editor at the Journal of Zoology. She received her PhD in Integrative Biology from UC Berkeley and two undergraduate degrees in Environmental Studies and Jazz Studies from the University of Southern California, and completed two postdoctoral positions at UC Davis and Washington State University. Her work has been supported by agencies including the National Science Foundation and the California Sea Grant, and she has published in journals including Marine Ecology Progress Series and Nature Ecology & Evolution.