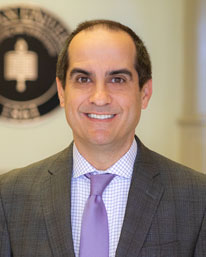 Matt Parlow
Professor, Dean of Fowler School of Law
Donald P. Kennedy Chair in Law

Dale E. Fowler School of Law
Expertise: Sports Law; City Government; Local Government Law; Land Use; Urban Redevelopment
Office Location: Kennedy Hall
Education:

Loyola Marymount University, Bachelor of Arts
Yale Law School, Juris Doctor
Biography
Matt Parlow is in his fifth year as the Dean of the Chapman University Dale E. Fowler School of Law. He also holds the Donald P. Kennedy Chair in Law. Previously, Dean Parlow was the Associate Dean for Academic Affairs and a Professor of Law at Marquette University Law School, where he taught Property, Land Use, Legislation, Urban Redevelopment, and Professional Sports Law (with Major League Baseball Commissioner Emeritus Bud Selig). Prior to that, he served on the faculty at the Fowler School of Law from 2005 to 2008. Dean Parlow was voted the Professor of the Year during his time at both Marquette Law School and the Fowler School of Law.
Prior to his academic career, Dean Parlow was an associate with the Los Angeles firm of Manatt, Phelps & Phillips, LLP, specializing in real estate, land use, environmental, and local/state government law. He also served as a law clerk for the Honorable Pamela Ann Rymer of the United States Court of Appeals for the Ninth Circuit. Dean Parlow holds a JD from Yale Law School, where he was an editor of theYale Law and Policy Review and the Yale Journal on Regulation, and a B.A., magna cum laude, in History from Loyola Marymount University.
Dean Parlow has also served on the board of directors of several non-profit organizations and has been appointed to a number of local and state government task forces. Currently, he is a trustee of The Pegasus School and serves on the City of Costa Mesa's Finance and Pension Advisory Committee. Dean Parlow also serves as a consultant to professional sports leagues and teams, and advises local, state, and national officials on a variety of political, legal, and policy matters.
Dean Parlow's scholarship focuses on local government law, land use, urban redevelopment, and sports law. His articles have appeared in the Colorado Law Review, Temple Law Review, Oklahoma Law Review, and Harvard Journal of Sports and Entertainment Law, among other journals.