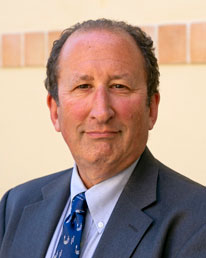 Lawrence Rosenthal
Professor
Dale E. Fowler School of Law
Expertise: Criminal Law and Criminal Justice; Civil Rights; Second Amendment; Search and Seizure; Interrogation Law;
Office Location: Kennedy Hall 433
Education:

University of Illinois - Urbana-Champaign, Bachelor of Arts
Harvard University, Juris Doctor
Biography
After graduating from Harvard Law School, where he won the Fay Diploma and was an editor of the Harvard Law Review, Professor Rosenthal clerked for Judge Prentice Marshall of the United States District Court for the Northern District of Illinois and Justice John Paul Stevens of the United States Supreme Court. Professor Rosenthal entered the practice of law as an Assistant United States Attorney for the Northern District of Illinois, specializing in organized crime and public corruption prosecutions. Among other things, he brought the first racketeering case involving insider trading, and secured the longest sentence in the history of the district in an organized crime case (200 years). He subsequently joined the City of Chicago's Department of Law, where he was Deputy Corporation Counsel for Counseling, Appeals, and Legal Policy. In that capacity, he argued three cases in the United States Supreme Court, and supervised a large volume of complex litigation as well as legislative as policy matters.
To his great embarrassment, Professor Rosenthal was named by Chicago Magazine as one of "Chicago's 25 Toughest Lawyers". Since then, he tries to be nicer. Professor Rosenthal joined the Chapman faculty in the fall of 2005. He also continues to engage in litigation in the United States Supreme Court and other appellate courts, usually on a pro bono basis.
Courses Taught:
Criminal Law, Civil Rights Law, Constitutional Law, and Practice Foundations: Criminal Litigation.
Recent Creative, Scholarly Work and Publications

Conflicts of Interest in Police Misconduct Litigation and What To Do About Them, MUNICIPAL LAWYER, Jan./Feb. 2023, at 10.

Legal Ethics as Roadblock To Police Accountability, 92 MISS. L.J. 1 (2022)

Does the First Amendment Protect Academic Freedom?, 46 J. Coll. & Univ. L. 223 (2021)

Defending Qualified Immunity, 72 S.C. L. Rev. 547 (2020)

The Law and Economics of De-Policing, Federal Sentencing Reporter, Vol. 33, No. 1-2, pp. 128–141 (Oct./Dec. 2020)

Eyewitness Identification and the Problematics of Blackstonian Reform of the Criminal Law, 110 J. Crim. L. & Criminology 181 (2020)

An Empirical Inquiry into the Use of Originalism: Fourth Amendment Jurisprudence During the Career of Justice Scalia, 70 Hastings L.J. 75 (2019)

The Case for Surveillance, in THE CAMBRIDGE HANDBOOK OF SURVEILLANCE LAW (David Gray & Stephen E. Henderson eds., 2017)

Compulsion, 18 U. PA. J. CONST. L. 889 (2017)

Good and Bad Ways to Address Police Violence, 38 Urb. Law. 675 (2016)

The Statement and Account Clause as a National Security Freedom of Information Act, 47 Loy. U. Chi. L. Rev. 1 (2015)

The Limits of Second Amendment Originalism and the Constitutional Case for Gun Control, 92 Wash. U.L.Rev 1187 (2015)

Binary Searches and the Central Meaning of the Fourth Amendment, 22 Wm. & Mary Bill of Rights J 881 (2014)

The Scope of Regulatory Authority under the Second Amendment, in iReducing Gun Violence in America: Informing Policy with Evidence and Analysis (Daniel W. Webster & Jon S. Vernick eds., 2013) (with Adam Winkler)

Seven Theses In Grudging Support of the Exclusionary Rule, 10 Ohio St. J. Crim. L. 525 (commissioned article for symposium on the exclusionary rule)

Saving Disparate Impact, 34 Cardozo L. Rev. 2157

Debate: The Constitutionality of Stop-and-Frisk in New York City, 162 U. Pa. L. Rev. Online 117 (2013) (debate with Professor David Rudovsky of the University of Pennsylvania School of Law in the online supplement to the University of Pennsylvania Law Review)

Originalism in Practice, 87 Ind. L.J. 1183 (2012)

McDonald v. Chicago: Which Standard of Scrutiny Should Apply to Gun-Control Laws?, 105 NW. U.L. REV. 437(2011) (debate with Professor Joyce Lee Malcolm of George Mason University School of Law)

Those Who Can't, Teach: What the Legal Career of John Yoo Tells Us About Who Should Be Teaching Law, 80 MISS. L.J. 1563 (2011)

First Amendment Investigations and the Inescapable Pragmatism of the Common Law of Free Speech, 86 IND. L.J. 1 (2011)

Second Thoughts on Damages for Wrongful Convictions, 85 CHI.-KENT L. REV. 127 (2010) (contribution to symposium on criminal procedure)

Second Amendment Plumbing after McDonald, MUNICIPAL LAWYER, Nov./Dec. 2010, at 6

The Law Professor as Counterterrorist Tactician, 89 TEX. L. REV. See Also 113 (2010) (responding to Aziz Z. Huq, The Signaling Function of Religious Speech in Domestic Counterterrorism, 89 TEX. L. REV. 833 (2011))

Confusing Cause and Effect, in CRIMINAL LAW CONVERSATIONS (Paul H. Robinson, Kimberly Ferzan & Stephen Garvey eds. (Oxford Univ. Press 2009)

Second Amendment Plumbing after Heller: Of Standards of Scrutiny, Incorporation, Well-Regulated Militias and Criminal Street Gangs, 41 URB. LAW. 1 (2009)

Probability, Probable Cause, and the Law of Unintended Consequences, 87 TEX. L. REV. See Also 63 (2009) (responding to Max Minzner, Putting Probability Back into Probable Cause, 87 TEX. L. REV. 913 (2009)

The New Originalism Meets the Fourteenth Amendment: Original Public Meaning and the Problem of Incorporation, 18 J. CONTEMP. LEGAL ISSUES 361 (2009)(contribution to symposium on the Fourteenth Amendment and the Bill of Rights)