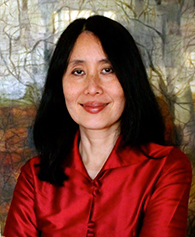 Lan Cao
Professor, Betty Hutton Williams Professor of International Economic Law

Dale E. Fowler School of Law
Expertise: International Business; International Trade; Corporate Law; Economic Development; Rule of Law
Office Location: Kennedy Hall 413
Education:

Mount Holyoke College, Bachelor of Arts
Yale University, Juris Doctor
Biography
Professor Cao is the Betty Hutton Williams Professor of International Economic Law. She joined the Fowler School of Law in 2013 after serving for more than a decade on the faculty at William & Mary Law School, where she was the Boyd Fellow and Professor of Law. She clerked for Judge Constance Baker Motley of the U.S. District Court for the Southern District of New York. She practiced with Paul, Weiss, Rifkind, Wharton and Garrison in New York City. Professor Cao was a Ford Foundation Scholar in 1991. She is also the author and co-author of several books and supplements, including the novels Monkey Bridge (Viking Penguin 1997); The Lotus and the Storm (Viking Penguin 2015); and Family in Six Tones (Viking Penguin 2020). Her academic monograph Culture in Law & Development: Nurturing Positive Change was published by Oxford University Press in 2016.
Professor Cao holds the Betty Hutton Williams Endowed Professorship in International Law
Courses Taught: Corporations, International Business Transactions and International Trade Law.
List of Scholarly Publications
Recent Creative, Scholarly Work and Publications

Family in Six Tones (Viking Penguin 2020)

CULTURE IN LAW AND DEVELOPMENT: NURTURING POSITIVE CHANGE (Oxford University Press May 2016) (500 page monograph) reviewed in Jane E. Stromseth, 112 Am. J. Int'l L. 798-804 (2018) (reviewing Lan Cao, Culture in Law and Development: Nurturing Positive Change (2016)