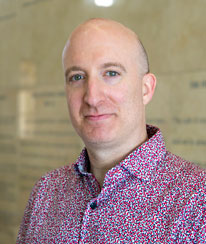 Kenneth Stahl
Professor, Director, Environmental Land Use and Real Estate Law Program

Dale E. Fowler School of Law
Expertise: Land Use; Zoning; Local Government Law; Globalization; Election Law; Property Law;
Office Location: Kennedy Hall 409
Education:

University of Michigan, Bachelor of Arts
Yale University, Juris Doctor
Biography
Kenneth Stahl is a Professor of Law and the director of the Environmental, Land Use, and Real Estate Law certificate program at Chapman University Fowler School of Law. His scholarly work focuses on the relationship between the local political process and judicial doctrine in land use and local government law. His research combines doctrinal analysis with insights from disciplines including urban sociology, geography, economics, and the humanities. Professor Stahl's works have appeared in journals including: The University of Pennsylvania Law Review, the Harvard Civil Rights-Civil Liberties Law Review, and Cardozo Law Review, among others. He was selected as a participant at the 2012 Junior Faculty Forum at Harvard Law School. Professor Stahl has also been named Professor of the Year at Fowler School of Law twice and received the Michael Lang Award for Scholarly Excellence in 2021.
Before joining the Fowler School of Law, Professor Stahl spent four years as an Assistant United States Attorney in the Eastern District of New York. Prior to that, he worked as a Trial Attorney for the United States Department of Justice, Office of Constitutional Torts, and as an Associate at the Washington, D.C. law firm of Arnold & Porter. Professor Stahl earned a B.A. with Highest Honors and Highest Distinction from the University of Michigan and a JD from Yale Law School. At Yale, he served as a Notes Editor of the Yale Law Journal and an editor of the Yale Journal of Law and The Humanities.
Courses Taught:
Land Use Regulation, Election & Political Campaign Law, Property, and Housing Law and Policy Seminar.
Recent Creative, Scholarly Work and Publications

Home Rule and State Preemption of Local Land Use Control, 50 The Urban Lawyer 179 (2021)

Incorporating Transportation Topics into the Land Use Curriculum, 106 Iowa Law Review 2451 (2021).

Equality and Closure: The Paradox of Local Citizenship, 8 TEXAS A&M UNIVERSITY JOURNAL OF PROPERTY LAW 29 (2021)

Local Citizenship in a Global Age, Cambridge University Press

"Contagion and Partisan Federalism," Duke Center for Firearms Law (May 8, 2020)

"Citizenship Federalism and the Ambiguous Promise of Local Citizenship," Global Governance Programme, Symposium on "Cities v. States: Should Citizenship be Emancipated from Nationality?"

The Trespass/Nuisance Divide and the Law of Easements, 86 THE GEORGE WASHINGTON LAW REVIEW 101 (2018)

"Yes in My Backyard:" Can a New Pro-Housing Movement Overcome the Power of NIMBYs? 41 ZONING & PLANNING LAW REPORT 3 (March 2018)

The Challenge of Inclusion, 89 TEMPLE LAW REVIEW 487 (2017)

Preemption, Home Rule and Local Democracy, 44 FORDHAM URBAN LAW JOURNAL 133 (2017)

Local Home Rule in the Time of Globalization, 2016 BYU LAW REVIEW 177

Local Government, One Person/One Vote, and the Jewish Question, 49 HARVARD CIVIL RIGHTS-CIVIL LIBERTIES LAW REVIEW 1 (2014). Selected for presentation at 2012 Harvard/Yale/Stanford Junior Faculty Forum.

Mobility and Community in Urban Policy, 46 THE URBAN LAWYER 625 (2014)

Reliance in Land Use Law, 2013 BYU LAW REVIEW 949

Neighborhood Empowerment and the Future of the City, 161 UNIVERSITY OF PENNSYLVANIA LAW REVIEW 939 (2013)

The Suburb as a Legal Concept: The Problem of Organization and the Fate of Municipalities in American Law, 29 CARDOZO L. REV. 1193-1272 (2008).

The Artifice of Local Growth Politics: At-Large Elections, Ballot-Box Zoning, and Judicial Review, 94 MARQUETTE LAW REVIEW 1- 75 (2010)