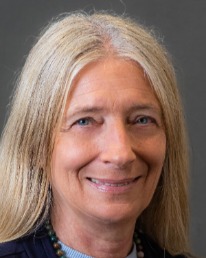 Dr. Kathleen Hill-Besinque
Professor, Pharmacy Practice
Assistant Dean of Experiential Education

Expertise: Women's Healthcare; Experimental Education; Higher and Post-Secondary Education; Community Pharmacy Practice
Office Location: Rinker Health Science Campus 112
Education:

California State University, Long Beach, Bachelor of Science
University of Southern California, Master of Science
University of Southern California, Doctor of Pharmacy
Biography
In addition to the degrees listed in the Education section above, Dr. Besinque holds the following credentials: Advanced Practice Pharmacist, FASHP, FCPhA, and FCSHP. Dr. Besinque is a Professor of Pharmacy Practice and the Director of Experiential Education at the Chapman University School of Pharmacy. After completion of her undergraduate degree, she completed her Pharm.D. degree at the University of Southern California. After receiving her Doctor of Pharmacy degree, she completed a PGY1 post-graduate residency with the Veterans Affairs and USC School of Pharmacy in Ambulatory Care. During her residency she was involved in the care of patients, supervision of fourth year pharmacy students completing rotations at the VA Medical Center and taught a weekly case conference for students in the USC School of Pharmacy. Her residency project was a Review of Cimetidine Use in an Outpatient Clinic.
After completion of her residency, she began teaching at the University of Southern California School of Pharmacy.  While at the University of Southern California, she held various positions including: as coordinator the clinical therapeutics courses, preceptor for acute care and for psychiatry, Director of Professional Experience Program, and Assistant Dean for Curriculum and Assessment. She served on numerous committees including the curriculum committee, residency council, scholarship standards committee, executive committee, non-tenure track committee of the academic senate and the interprofessional education committee. She also provided clinical pharmacy services at Kenneth Norris Cancer Hospital, LAC-USC County Medical Center and the USC University Medical Center (now Keck). While teaching at USC she completed a graduate program in higher and post-secondary education at University of Southern California Division of Medical Education. In addition to teaching within the School of Pharmacy, she taught courses in the Academic Medicine graduate program for the Keck School of Medicine. In 2016, Dr. Besinque was appointed as Professor and Chair of Experiential Education at Loma Linda University School of Pharmacy where she was involved in curriculum design, assessment and interprofessional activities.
Dr. Besinque holds leadership positions in numerous professional organizations. She is currently the Immediate past-president of SCSHP. Previously, Dr. Besinque served as the President of the California Pharmacists Association, on the Board of Directors for ARHP, Chair of the House of Delegates and member of the BOD for CSHP, President of SCCP and as a CPhA Trustee.
Dr. Besinque has presented papers at numerous pharmacy and educational conferences around the world. She lectures and writes extensively on the topic of contraception, emergency contraception, faculty development and preceptor training, and women's healthcare programs. She is also a reviewer for several journals on the topics of pharmacy/medical education and women's health.
Research Interests:
Dr. Besinque's research interests include women's health care issues with a focus on access to contraceptive care, educational strategies to improve learning for pharmacy students and faculty/preceptors in the clinical setting. The goal of her research is to bring a better understanding of the value and the contribution of pharmacists to the women's healthcare services.
Publications:
Karen Whalen, Daniel S. Aistrope, Jason Ausili, Kathleen H. Besinque, Elizabeth A. Cardello,
Philip M. Hritcko,f George E. MacKinnon, III, Eric Maroyka, Elizabeth Sutton Burke, I. Shane Trent, Lynette  R. Bradley-Baker; The Report of the 2016-2017 Professional Affairs Standing Committee: Formally  bracing and Engaging Preceptors in the Academy — The Time Has Come; AJPE 2017; 81 (9)
Ignoffo R, Chan L, Knapp K, Chan E, Ip E, Bandy J, Besinque K, Colbert J, Duby JJ, Galanto JS, Gloudeman    M,  Havard P, Lackey G, Lozano E, Scott J, Stewart TL. Efficient and effective precepting of pharmacy     students in acute and ambulatory care rotations: A Delphi expert panel study. Am J Health Syst Pharm.     2017 Aug 22. pii: ajhp170181. doi: 10.2146/ajhp170181. PMID:28830868.
Monroe, Kristine, Stanczyk,Frank, Besinque, Kathleen, Pike, Malcolm; The Effect of Grapefruit Intake on Endogenous Serum Estrogen Levels in Postmenopausal Women; Nutrition and Cancer; Volume 65, Issue 5; July 2013.
Levi A, Burdette L, Hill-Besinque K, Murphy PA. The interprofessional sexual and reproductive health care    team. Contraception. 2013 Aug;88(2):213-4.
Recent Creative, Scholarly Work and Publications

Munjy, Luma; Besinque, Kathleen; Bethishou, Laressa; Beuttler, Richard; Enhancing student learning in the affective domain within the Doctor of Pharmacy curriculum; Presented at the Innovations in Medical Education conference, February 2020; Pasadena, California.https://sites.usc.edu/ime-conference/past-proceedings/