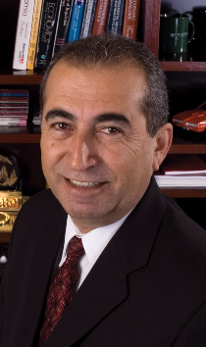 Chapman University mourns the passing of Esmael (Essie) Adibi, Ph.D., professor of economics, holder of the A. Gary Anderson Chair in Economic Analysis and director of the University's A. Gary Anderson Center for Economic Research since 1985. Dr. Adibi died of complications from a stroke on Friday, April 8, 2016.  He was 63. 
Dr. Adibi was perhaps best known to the Southern California public as the genial and intellectual presenter of the Chapman University Economic Forecasts, which he delivered live on a succession of the largest stages in Orange County (currently they are presented at Segerstrom Center for the Arts) over the past 38 years along with fellow economist, Chapman President Jim Doti. The forecasts, which because of their accuracy grew to be widely trusted by California business people and media outlets throughout the nation, began as a class project at Chapman in 1977, when Adibi was still an MBA student. Adibi joined the Chapman economics faculty the following year – the first year the Economic Forecast was released publicly. 
Born in Iran, Dr. Adibi received his Bachelor of Science degree from the University of Tehran, then moved to the U.S., where he pursued an MBA in business administration at Chapman University. He went on to achieve an M.S. in Economics from California State University, Fullerton and a Ph.D. in economics from the Claremont Graduate University. 
Dr. Adibi joined the Chapman faculty in 1978 and was appointed director of the A. Gary Anderson Center for Economic Research in 1985. His research interests focused on analyzing key economic indicators for the U.S. and California, and he was widely quoted in and interviewed by the media on issues of economics.
 He was past president of the Association for University Business and Economic Research, and a member of the NABE Outlook Survey Panel and Western Blue Chip Economic Forecast Panel. He served on the board of directors of SchoolsFirst Federal Credit Union and was a member of the California Treasurer's Council of Economic Advisors. 
With Doti he co-authored Econometric Analysis: An Applications Approach, as well as authoring The Practice of Econometrics with EViews. His articles were published in many newspapers, including the Los Angeles Times and the Orange County Register, as well as in professional journals such as International Advances in Economic Research, the Journal of Private Enterprise and the Quarterly Journal of Business and Economics. He also contributed frequently to local and national news stories on the economy.
 Dr. Adibi is survived by his wife Jila, daughter Roxanne, son Keeya, son-in-law William, future daughter-in-law Irene, and grandchildren Nicholas and Alexander.