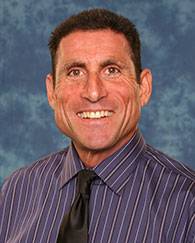 Dr. Eric Sternlicht
Associate Professor, Instructional Faculty

Crean College of Health and Behavioral Sciences; Health Sciences
Office Location: Crean Hall 143
Office Hours: Monday 10:00am-10:50am, 1:30pm-3:30pm; Wednesday 1:30pm-3:30pm; Friday 10:00am-10:50am
Education:

University of California, Los Angeles, Bachelor of Science
University of California, Los Angeles, Master of Science
University of California, Los Angeles, Ph.D.
Biography
Eric Sternlicht, Ph.D. joined Chapman University full-time in 2014, the same time as Chapman's Kinesiology program accepted their first incoming freshman class. Dr. Sternlicht received his undergraduate and graduate degrees from the University of California, Los Angeles (UCLA) in kinesiology. Together with his advisor, Dr. R. James Barnard, Dr. Sternlicht performed some of the seminal research in the mechanisms of insulin action on glucose transport in skeletal muscle and the roles of diet and exercise on blood glucose regulation.
While working on his doctoral program at UCLA, he started his nutrition and exercise consulting company, Simply Fit, Inc. Through his company he has working with professional and Olympic athletes, corporations and law firms. His recent work includes the tested of exercise equipment for its efficacy, exercise and nutrition program analysis and expert witness testimony on injury-accident cases. He takes these consulting projects as opportunities to engage his students and provide them with real-life experiences in the fields of kinesiology, human performance and nutrition. Upon leaving UCLA for Occidental College, to focus more on program development and teaching than research, Dr. Sternlicht shifted his research focus from basic science at the subcellular level to human performance with published research ranging from efficacy of abdominal exercise devices, compression tights and Zumba exercise routines. He continues to focus on applied research when the opportunities arise; however, his main focus is on teaching and advising of the program's students.
Prior to coming to Chapman University, Dr. Sternlicht taught for 10 years at UCLA in the Physiological Science program and 24 years at Occidental College in the Kinesiology program. While at Occidental College, Dr. Sternlicht helped to develop their program – moving from an Exercise Science degree to a Kinesiology degree - and many of the courses in their program. Several of Dr. Sternlicht's upper-division courses are currently offered within the Chapman Kinesiology program including Biochemistry of Exercise, Diet, Disease & Exercise and Science of Obesity. His teaching and recent research publications can be found below.
Teaching
HESC 101 Introduction to Health Care Professions
HESC 105 Medical Terminology: Latin and Greek Roots for Health Care Professionals
KINE 250 Fundamentals of Kinesiology
KINE 340 Science of Obesity
KINE 345 Diet, Disease & Exercise
KINE 329 Biochemistry of Exercise
HESC/KINE 350/350L Applied Exercise Physiology
Memberships
Academy of Nutrition and Dietetics (AND)
American College of Sports Medicine (ACSM)
American Medical Athletic Association (AMAA)
International Dance-Exercise Association / American Council on Exercise (ACE)
National Strength and Conditioning Association (NSCA)
Editorial Boards
California Journal of Health Promotion - Current
Ironman Magazine - Current
Publications
Sternlicht, E., F. Frisch, and K.D. Sumida. Zumba Fitness workouts: are they an appropriate alternative to running or cycling? Sports Sci Health. October 2013. DOI 10.1007/s11332-103-0155-8.
Rugg, S. and E. Sternlicht. The Effect of Graduated Compression Tights, Compared with Running Shorts, on Counter Movement Jump Performance Before and After Submaximal Running. J. Strength Cond. Res. 27(4): 1067-1073, 2013.
Sternlicht, E., S. Rugg, L.L. Fujii, KF Tomomitsu, and MM Seki. Electromyographic Comparison of a stability ball crunch with a traditional crunch. J.Strength Cond. Res. 21(2): 506-509, 2007.
Sternlicht, E., S. Rugg, M. Bernstein, and S. Armstrong. Electromyographic analysis and comparison of selected abdominal training devices with a traditional crunch. J. Strength Cond. Res. 19(1): 157-162, 2005.
Sternlicht, E. and S. Rugg. Electromyographic. Analysis of abdominal muscle activity using portable abdominal exercise devices and a traditional crunch. J. Strength. Cond. Res. 17(3): 463-468, 2003.