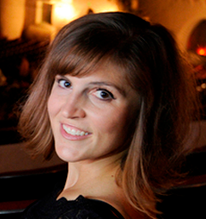 Dr. Emily Carman
Associate Professor
Film and Media Studies
Lawrence and Kristina Dodge College of Film and Media Arts
Expertise: American and Classic Hollywood Cinema; Media Historiography; Women in Film; Moving Image Archival Theory, Practice and Restoration;
Office Location: Becket Building 209
Education:

University of Florida, Bachelor of Arts
University of California, Los Angeles, Master of Arts
University of California, Los Angeles, Ph.D.
Biography
Industry Affiliations: UCLA Film and Television Archive; Warner Bros. Archive USC and USC Cinematic Arts Library; Society of Cinema and Media Studies; Association of Moving Image Archivists; the Academy Film Archive
Emily Carman earned her Ph.D. from the Cinema and Media Studies program at the UCLA School of Theater Film and Television, where she channeled her passion for film history, especially classic Hollywood cinema in the 1930s, into various scholarly and professional pursuits in film. While her primary research expertise focus on film historiography, stardom, the Hollywood studio system and media industries, other scholarly interests include postwar European cinemas and moving image archive theory and practice. Carman's first book, Independent Stardom: Freelance Women in the Hollywood Studio System (University of Texas Press, 2016), uncovers how  female stars including Constance Bennett, Irene Dunne, Miriam Hopkins, Carole Lombard, and Barbara Stanwyck challenged Hollywood's patriarchal structure by freelancing and working independently in Hollywood. Through extensive, original archival research, Carman's book rethinks standard histories of Hollywood to recognize female stars as creative artists, sophisticated businesswomen, and active players in the then (as now) male-dominated film industry. Independent Stardom was a finalist for the Theatre Library Association's 2016 Richard Wall Memorial Award.  The edited anthology Hollywood and the Law (BFI/Palgrave MacMillan, 2015), brings together leading scholars in the film and media as well as legal studies to examine how legal infrastructures influence and regulate the content, distribution, and consumption of Hollywood film and media. Her chapter in the book, "Doing the Deal: Talent Contracts in Hollywood," traces the evolution of above-the-line talent contracts and analyzes the "De Havilland Law" verdict delivered by the California Supreme Court in 1944 that legally recognized movie talent's right to be a free agent and considers the current application of this legal decision in present day Hollywood. Carman has published articles on American cinema, film history and historiography, stardom, and moving image archival theory and practice in Quarterly Review of Film and Video, Celebrity Studies, The Moving Image, and Cinephile.
In addition to her scholarly pursuits, Carman has worked for various motion picture archives and cultural institutions, including the USC Warner Bros. Archives, where she was the curator responsible for the preservation of the collection and its public access for research; the Academy Film Archive; the UCLA Film and Television Archive, and L'Immagine Ritrovata at the Cineteca di Bologna. In 2012, she established a course at Dodge College that takes students back to Bologna each year to attend the Il Cinema Ritrovato Film Festival.
In Spring 2016, Carman co-curated the UCLA Film and Television Archive film series "Independent Stardom On Screen: Freelance Women in Hollywood," which showcased various films made by the freelance actresses featured in her book. She appeared as a co-host for Turner Classic Movies' "Trailblazing Women: Actresses Who Made a Difference" in Fall 2016, discussing the wartime contributions of Bette Davis, Marlene Dietrich, Hedy Lamarr, and Josephine Baker. She has been interviewed by major media outlets and national newspapers on various aspects of Hollywood history.
Drawing on archival collections alongside autobiographies, print journalism, and interviews with the cast and crew, Carman is currently writing a book about John Huston's 1961 Western The Misfits as a transitional film through which to understand the important cultural and industry shifts from Classical to New Hollywood.
Recent Creative, Scholarly Work and Publications

• Archive Talks: The Misfits, UCLA Film and Television Archive, Billy Wilder Theater, March 19, 2023.

"Going Independent in 1930s Hollywood: Freelance Star and Independent Producer Collaborations at United Artists," United Artists, edited by Peter Kramer, Yannis Tzioumakis, Gary Needham, and Tino Balio. Routledge Hollywood Centenary series, February 2020.

"From Mary Pickford to Marilyn Monroe: Hollywood Stardom in the Twentieth Century," Screen Studies, Bloomsbury, Spring 2019

"New Histories of Hollywood Roundtable," Spectator 37.2 (Fall 2018): 60-81.

"Film History Comes Alive: Primary Materials Research as Participatory Pedagogy," edited by Laura Isabel Serna and Kate Fortmueller, in Cinema Journal Teaching Dossier Volume 4 (3), June 2017.

Independent Stardom: Freelance Women in the Hollywood Studio System, University of Texas Press on editor Professor Thomas Schatz's " Texas Film and Media" series, 2016

Independent Stardom Onscreen: Freelance Women in Hollywood Film Series and Book Signing, UCLA Film and Television Archive Billy Wilder Theater, Hammer Museum, Los Angeles, CA, April 16-May 26, 2016

"Stardom and Film Historiography: Onscreen Legend and Off-screen Practice in Robert Aldrich's The Big Knife (1955)," Cinephile 11.2 (Winter 2016): 10-16.

"In Focus: The State of Academic Publishing," co-edited with Ross Melnick, Associate Professor of Film and Media Studies, UCSB, Cinema Journal 55.4 (August 2016), 130-132.

Hollywood and the Law, BFI/Palgrave Press, co-editor and contributor, 2015.

"Doing the Deal." Co-author Philip Drake, in Hollywood and the Law, BFI/Palgrave Press, 2015.

"Mapping the Body: Female Film Stars and the Reconstruction of National Identity in Postwar Italy," Quarterly Review of Film and Video, , 31.4 (2014): 322-335.

"Hollywood is a Woman's Town: Freelance Stardom and Aging in the Studio System" in Celebrity Studies, 3.1 (March 2012): 13-24; reprinted in Female Celebrity and Ageging: Back in the Spotlight (London: Routledge, 2014);

"That's Not All, Folks!: Excavating the Warner Bros. Archive." The Moving Image , 14.1 (Spring 2014): 30-48.

"Independent Stardom: Female Film Stars and the Studio System in the 1930s." Women's Studies: An Interdisciplinary Journal (Fall 2008): 583-615