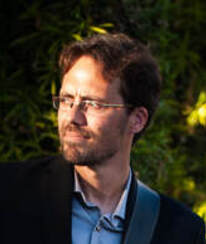 Dr. Alexander Miller
(he/him)
Lecturer
Theory
College of Performing Arts; Hall-Musco Conservatory of Music
Photo credit: Andrew Reitsma
Biography
Alexander Elliott Miller is a composer and guitarist whose music has been described as "wild...unearthly...lyrical...a voice worth listening to" (San Francisco Classical Voice) and "deceptively laid back in an L.A. way...inventive....unconventional" (L.A. Times).
Miller has collaborated with Grammy nominated musicians including pianists Vicki Ray, Aron Kallay and soprano Tony Arnold, as well as many contemporary classical ensembles and organizations such as HOCKET, Juventas New Music Ensemble, Earplay New Chamber Music, the Boston New Music Initiative, the Los Angeles Percussion Quartet and the Panic Duo, among others. In 2017, pianist Vincent Craig performed one of his compositions at Carnegie Hall.
In the fall of 2018, his album TO….OBLIVION: Historic Landmarks Around Los Angeles was released; the work is a collection of pieces inspired by six lost landmarks in LA, each of some social significance, scored for solo electric guitar, sound effects and video.
Miller is on the faculty of California State University Long Beach and Chapman University, where he teaches music theory and composition. He holds degrees from USC, the Eastman School of Music and the University of Colorado at Boulder.