»

Rinker Campus and PAS Facilities

Interested in seeing our facilities? Explore them from wherever you are with this 360-degree virtual tour:
State-of-the-art Simulation Environments
___________________________________________
Comprehensive Exam Labs
The PA program utilizes two comprehensive exam labs equipped with 26 patient exam tables. The exam labs are used to teach, practice, and assess physical exam, clinical skills, patient procedures, and care simulations. Simulation mannequins enable students to take part in real life patient scenarios across the life span.
Students experience simulated patient cases in multiple clinical environments across several areas of care, including but not limited to: emergent, acute, chronic, and preventative medicine. Other simulation equipment includes various interactive mannequins and models of individual organ systems in the human body to practice and assess examination skills.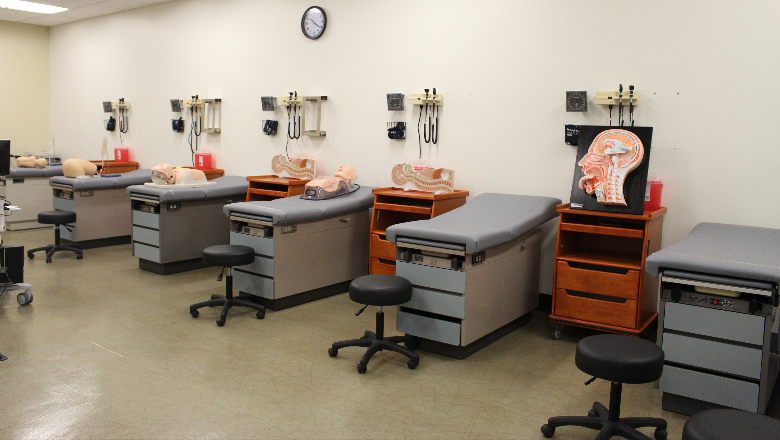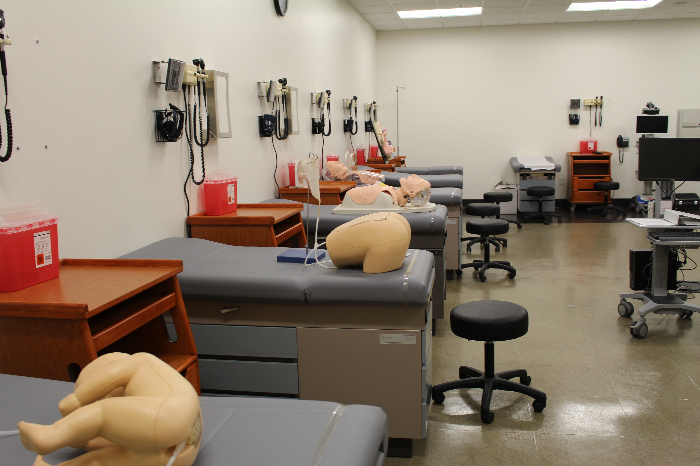 Examples of Training Equipment
| | |
| --- | --- |
| | Venipuncture Arm |
| | Culture/Specimen Information |
| | Pediatric Venipuncture Simulators |
| | Suture Skin Base |
| | Difficulty Intubation Simulator |
| | Difficulty Intubation Simulator |
| | Nasogastric Tube Placement Simulator |
| | Lung Simulator |
| | Dry Lab Upper Extremity Models with casting materials applied |
| | Patient Simulator with Electrocardiogram attached |
| | Heart and Lung Simulator |
| | Pelvic Exam Simulator |
| | Vascular and Nerve Model |
| | Dry Lab Bone Specimens |
| | Ear Model |
| | Ear Exam Simulator |
| | Upper and lower body vascular model |
| | Nasogastric Tube Anatomy Trainer |
| | Hearts Anatomy Model |
| | Anatomy Model |
| | Fundscopic Eye Exam Simulators |
| | Breast Exam Simulator |
Patient Evaluation Suite
The patient evaluation suite includes 6 patient examination rooms that are modeled after clinic rooms students will experience in practice. The suite is equipped with video and voice recording equipment for each room and a surgical scrub sink. The suite also allows for frequent student assessment with colleagues or standardized patients in a simulated clinic environment that brings didactic learning to the realities of patient care.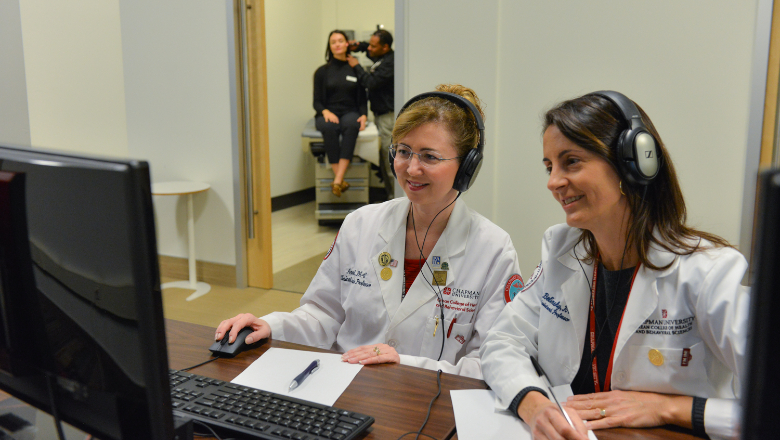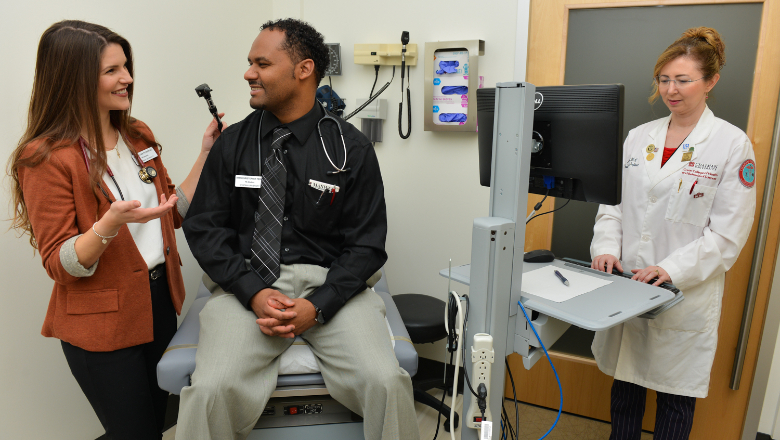 Emergency Simulation Room 103
Room 103 is used as a simulated emergency department.  The room includes multiple simulation stations equipped with mannequins and supplies to provide an interactive learning environment for patient care that can benefit multiple disciplines. Physician assistant students primarily use this space to practice both patient assessment and procedures to develop and refine their skills throughout the program.
Interactive Classrooms
General Purpose Classrooms
Each room features movable desks and chairs, Panopto recording, device charging outlets, two large flat panel TVs, a computer, Apple TV and HDMI laptop connection.
Active Learning Center (2,834 square feet)
This is a flipped classroom learning environment for 103 students with individual flat screen monitors at each table. 13 tables with their own flat panel TVs with HDMI input and Apple TV. The room includes four 3-D projection screens (two on the east wall and two on the west wall) that can be separated for use with video conferencing or two separate presentations at the same time. Two cameras (one for student vide and the other for presenter view) for lectures capture (Panopto) and wireless mics for presenters and mics at each desk for students for use either as sound reinforcement and/or for lecture capture. HDMI Laptop connection and DVD player are also present.