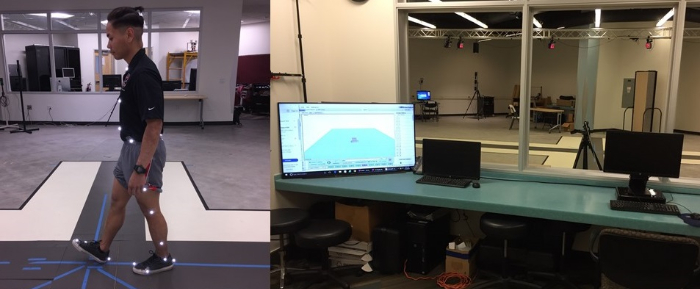 Doctor of Physical Therapy Research
»

Engineering therapies through research
Gait Rehabilitation and Research Lab (GRRL)
Gait Rehabilitation and Research Lab (GRRL) investigates intervention solutions for fall prevention. Our research investigates the effectiveness of perturbation training for enhancing postural and dynamic stability in individuals with neurological or musculoskeletal disorders. We also design fall assessment portable tools such as smartphone apps and use inertial sensors in understanding movement characteristics. Our research involves understanding Activities of Daily Living (ADL's) using inertial sensors. Research in Gait Rehabilitation Research Lab explores stability and stride interval complexity due to controlled gait and postural perturbations and during more complex cognitive and functional tasks while walking. The ultimate goal of our research is to improve quality of life of patient population by introducing interventions for movement disorders.
Dr. Rahul Soangra
Location: Harry and Diane Rinker Health Science Campus
soangra@chapman.edu
Neuromechanics of Human Movement Laboratory
Dr. Jo Armour Smith's program of research investigates how postural control of the trunk is adapted in response to pain, aging and skill training, and the mechanisms underlying these adaptations. Her current research focuses on the adaptations in trunk control that are associated with persistent low back pain, as these adaptations may contribute to the recurrence of symptoms. She uses a neuromechanical approach that blends biomechanics and neuroscience to study how the nervous system and musculoskeletal system interact to produce movement in healthy individuals and individuals with back pain. Research in the Neuromechanics of Human Movement Laboratory (NOHMLab) explores trunk muscle activity, trunk motion, and associated cortical function during controlled postural perturbations and during more complex functional tasks like walking and turning.
Initial work in the NOHMLab will examine the relationship between cortical function and impairments in postural control in individuals with persistent low back pain. Translational studies will also quantify changes in cortical function in response to physical therapy intervention. Clinical studies will then investigate the effectiveness of motor learning exercise interventions for enhancing postural control in individuals with acute and persistent low back pain, with the ultimate goal of increasing the understanding of mechanisms underlying the transition from acute to persistent back pain and enhancing physical therapy treatment of this disorder.  
Dr. Jo Armour Smith
Location: Harry and Diane Rinker Health Science Campus
josmith@chapman.edu
Motor Control and Motor Development Research Laboratory
The goal of the Motor Control and Motor Development Research Laboratory is to understand and create solutions to maximize the motor potential in all children.  Dr. Grant-Beuttler's research has focused on the role of early motor experiences on the development of gait and postural control.  This lab focuses on questions such as: Why does lack of uterine confinement result in different movement patterns in newborns? What experiences support the development of early gait?  How does gait stabilize into an adult pattern? Dr. Grant-Beuttler utilizes state of the art 3-dimensional equipment with electromyography and force platforms to answer these questions.  Currently, her work is focusing on idiopathic toe walking and developing an intervention for use in the child's everyday environment.  Dr. Grant-Beuttler and her colleague, Dr. Rahul Soangra, have a patent on a shoe insert, the "Smart Stepper" to train children who toe-walk to develop a heel strike gait. In addition, Dr. Grant-Beuttler runs Balanced Families with Dr. Jonathan from Marriage and Family Therapy.  Balanced Families provides a dance program for children with neuromotor limitations while parents can relax during a parent support group. Her past research includes: Supine Kicking in Full term and Preterm Newborns, Constraint-Induced Movement Therapy Program for Children with Hemiplegia, and an Middle School Physical Education Program (SHAPES) to combat youth obesity.  She has received funding from CHOC Foundation, the Kay Family Foundation, The Crean College Interdisciplinary Grant, U.S. Department of Agriculture, and the Edward R. Leahy Jr. Center for Research.

Dr. Marybeth Grant-Beuttler
Location: Harry and Diane Rinker Health Science Campus
beuttler@chapman.edu
Telerehabilitation, Robotic Therapy, and Augmented Reality Games for Stroke Recovery
As part of a series of collaborative clinical research studies with
Dr. Steven Cramer's Neural Repair Lab at UCI
, Dr. McKenzie
and
DPT students have been involved in the inception and implementation of innovative approaches to stroke rehabilitation that incorporate cutting edge technology into emerging models of neurorehabilitation for stroke.  The interdisciplinary research team includes neurologists, post-doctoral fellows, M.D./Ph.D. and Ph.D. students, physical and occupational therapists, bioengineers and bioengineering graduate students, computer scientists, and undergraduates.
Dr. Alison McKenzie
Location: Harry and Diane Rinker Health Science Campus
amckenzi@chapman.edu
Dynamic Prehension Lab (DPL)
Dr. Susan Duff's program of research investigates the development and recovery of prehensile skill following peripheral or central neural injury. She is interested in how individual resources and opportunity influence motor learning and control of hand and arm movement. Current research in the Dynamic Prehension Laboratory (DPL) focuses on quantitative assessment of interlimb coordination in children and adults with hemiparesis as well as the design of innovative interventions to accelerate and expand the development and recovery of prehensile skill. The lab is now examining the efficacy of technology-based interventions to augment arm movement and learning in young infants with unilateral dysfunction. Although her work is grounded in development and pediatrics she has expanded to include collaborations examining prehensile training programs for persons with incomplete spinal cord injury and work examining the efficacy of priming with training to expand the window of recovery for persons with hemiparesis. Her expertise in pediatrics brings a creative touch to this expansion across the lifespan.
Dr. Susan V Duff
Location: Harry and Diane Rinker Health Science Campus
duff@chapman.edu
Translational Gait Assessment and Intervention Lab
Dr. Ignasiak's research focuses on the quantification of human gait function and the understanding of the underlying neuromuscular control principles. Walking is one of the most common activities of daily living and deteriorates in the presence of most neurological disorders, as well as in the general aging population. Although numerous tools and measures have been developed to assess walking function it remains unclear how the complex interaction of spatial-temporal gait metrics, such as sufficient movement amplitude, rhythmicity, intra- and interlimb coordination govern safe and efficient ambulation. Furthermore, specific gait interventions to maintain or rehabilitate adequate levels of essential gait outcomes, such as for example the appropriate level of gait variability, are generally lacking in the clinical practice.

In his research, Dr. Ignasiak uses traditional motion capture systems, but also mobile devices like inertial measurement unit systems and smartphones to quantify gait performance inside the laboratory, as well as out in the wild. Dr. Ignasiak seeks to fully characterize the quality of a gait pattern by comprehensively analyzing movement-related data and the application of multivariate statistical tools and innovative machine learning approaches, all while avoiding arbitrary and biased parameter selection. In this way, he aims to complement the clinical practice in the assessment of gait function during the evaluation of treatment effects, as well as the monitoring of disease progression. He furthermore integrates neurophysiological tools, such as H-reflexes or electroencephalography to observe nervous system gait control principles, in order to inform the development of innovative intervention strategies to train and rehabilitate the control of optimal gait function. With his work, Dr. Ignasiak aims to ensure successful ambulation and thereby to promote an independent and active lifestyle in the elderly and diseased populations.
Dr. Niklas Ignasiak
Location: Harry and Diane Rinker Health Science Campus
ignasiak@chapman.edu