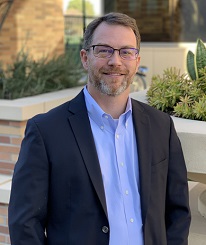 Schmid College of Science and Technology is committed to mentoring the next generation of scientific leaders. Our graduate and undergraduate students delve deeply into their chosen fields of study with faculty mentors who are internationally recognized scholars. Our Grand Challenge Initiative engages every undergraduate student in the process of answering interdisciplinary questions in collaborative teams from their first day on campus. Our students and faculty have access to cutting-edge instrumentation in the newly opened Keck Center for Science and Engineering. Opportunities for student-faculty research, professional internships and study abroad experiences allow Schmid students to further personalize their education at Chapman. Graduates from Schmid College of Science and Technology are prepared to push the boundaries of scientific knowledge, explore human health, and drive technological innovations.
I encourage you to explore our degree offerings, the research being done by our talented students and faculty, and the opportunities available within our college and across Chapman's campus. It is an exciting time for Schmid College and I hope that you will consider joining our community of students, teachers and scholars.
Jason K. Keller, Ph.D.
Interim Dean of Schmid College of Science and Technology