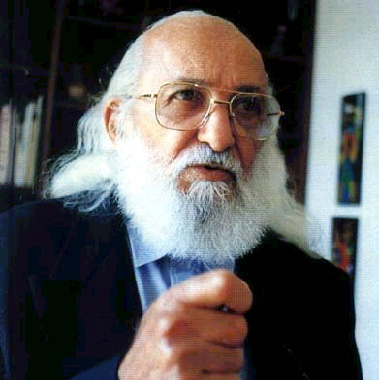 The Paulo Freire Critical Pedagogy Archive contains collections and papers relating to Paulo Freire (1921-1997), his pedagogy, and that of leading scholars in critical pedagogy.
A significant portion of the archive consists of the records from The Freire Project with a highlight being the professional papers of scholars, Peter McLaren (b. 1948) and Joe L. Kincheloe (1950-2008) along with some material from Henry Giroux (b. 1943).
In addition, there is the teaching material from Prof. Alma Flor Ada that includes a hand puppet of Freire that she used in her teaching.
Resource Links:
This collection consists of materials pertaining to Alma Flor Ada and her methods of teaching. Included are selected lesson plans, teaching materials, written works by Alma Flor Ada, a selection of papers by three of her students, photographs, misc. ephemera and two VHS tapes of her lectures. Also included are various works and education philosophies of Paulo Freire. Of particular interest is a stick puppet of Paulo Freire that was used as an instructional aide.
A small collection of personal papers and possessions from Paulo Freire. Of particular interest is a pair of eyeglasses once owned by him, a spiral notebook and various notecards and paper scraps that Freire would use to record notes for talks.
This collection contains the academic papers of pedagogy theorist Joe Lyons Kincheloe (1950-2008). Of particular interest are 147 notebooks that Kincheloe used in his research.
These papers contain material covering the professional career of Peter McLaren with special emphasis on his publications. Of particular interest are a number of manuscripts, lectures and publisher galleys with hand-written edits.
This small collection of papers donated by Prof. Tom Wilson of the Chapman University, College of Educational Services, are transcripts of two talks that Paulo Freire gave at Santa Ana Community College, March 8, 1986 and at the Instructional Development Center at UCI on August 6, 1986. There are two copies of the March 8, 1986 talk at Santa Ana Community College.
This collection contains a few records dealing with the operation of the Freire Project archives.