Collections
The Frank Mt. Pleasant Library holds an eclectic assortment of collections. Some of the significant collections are:
Book Collection
The Chapman University Leatherby Libraries Special Collections houses over 16,000 books.  The collections focus on rare and antiquarian books and book leaves, fine and California presses as well as some modern first editions. In addition, we hold collections of fine press miniature books, movable books and fine bindings. Major parts of this collection are the:
Artist's Book Collection, over 100 excellent interpretations of the book as artistic object and artistic platform. Online Archive
Charles C. Chapman Collection of Rare Books and Bibles, over 100 volumes of rare books and bibles collected by Charles Clarke Chapman, university namesake, donor and lifelong trustee.  This collection includes books and bibles printed from 1505 to the 20th century.  Notable are De Civitate Dei(Latin, 1505) and a Matthew's Bible ("Bugge" bible) (Latin, 1549).
Disciples of Christ Collection, over 500 books and periodicals.  The Disciple collection dates back to the early years of Chapman University when it was originally known as California Christian College located in Los Angeles.  Many of the books in this collection document the history of the Christian Church (Disciples of Christ).
Audrey Arellanes Bookplate Collection
Over 200 books on book plate history and collecting as well as several hundred book plate specimens along with several copper and steel-engraved printing plates.  Named for Audrey Spencer Arellanes who authored, Bookplates: a Selective Annotated Bibliography of the Periodical Literature in 1971, which is a landmark text in the field. She was also the third President of the American Society of Bookplate Collectors and Designers from 1968-2000.
Roberta Dale California History Collection
Over 400 books and pamphlets on cities, regions, and special interest topics relating to California.  Roberta Dale is a retired teacher and Chapman alumna '68, who traveled throughout California and purchased material on every city and town she visited.  The collection of almost 400 books and pamphlets reflect her deep interest in history.  Many of the volumes are signed, limited and out of print editions.
Paulo Freire Critical Pedagogy Collection
Of 20th century educational philosophers and theorists, the first half belongs to American John Dewey and the second to the Brazilian Paulo Freire. His initial work focused on the development of an educational practice whereby the marginalized poor learned to read and write in order for them to vote in presidential elections. This collection contains the papers of several important disciples of Freire, notably the papers of Peter McLaren, Henry Giroux and Joseph Kincheloe, among others.
Douglas Messerli Collection of Literature
Over 100 books focusing primarily on poetry, fiction, and the art of writing, many of which are signed, limited and fine press editions.  Douglas Messerli, PhD., is a writer, editor, former literature professor, and founder and publisher of Sun & Moon Press and Green Integer Press.  Mr. Messerli donated over 550 books to the library, 100 of which reside in Special Collections.
The Ralph L. Tomlinson collection of children's books
Mr. Tomlinson was the donor of the Ralph L. Tomlinson antique toy collection which is housed on the third floor of the library. The children's book collection, along with the toy collection, demonstrate Mr. Tomlinson's philosophy of "learning through play."
Photograph Collections 
Special Collections houses two photographic collections:
Chapman University Photo Collection and the UPI Photo Collection. Arranged by subject, the Chapman University Photo Collection includes images of the University from its inception to the present, faculty, students, administration as well as photographs of various academic programs and buildings. 
UPI Photo Collection of over 35,000 stock photographs was given to Chapman University from the Los Angeles branch office of United Press International (UPI) upon its closing in 1980. These photographs capture many historical moments from the 1960s and 1970s and are arranged into the following categories: Charles Lindbergh, Blacks in America, U.S. Presidential Campaign (1972), the Nixon presidency, Henry Kissinger, the Ford presidency, Arab/Israeli Conflict (1969-1975), Vietnam War, U.S. Presidential Campaign (1976), the Carter presidency, and miscellaneous files including sports and entertainment personalities of the time. Select photographs are made available for viewing in our online digital collection. 
Pamphlet Collection and Ephemera 
We have an extensive pamphlet collection that covers a wide range of subjects. 
Our ephemera collection is found among our manuscript collections as well as in our flat files. Please contact us for more information on the material that is available.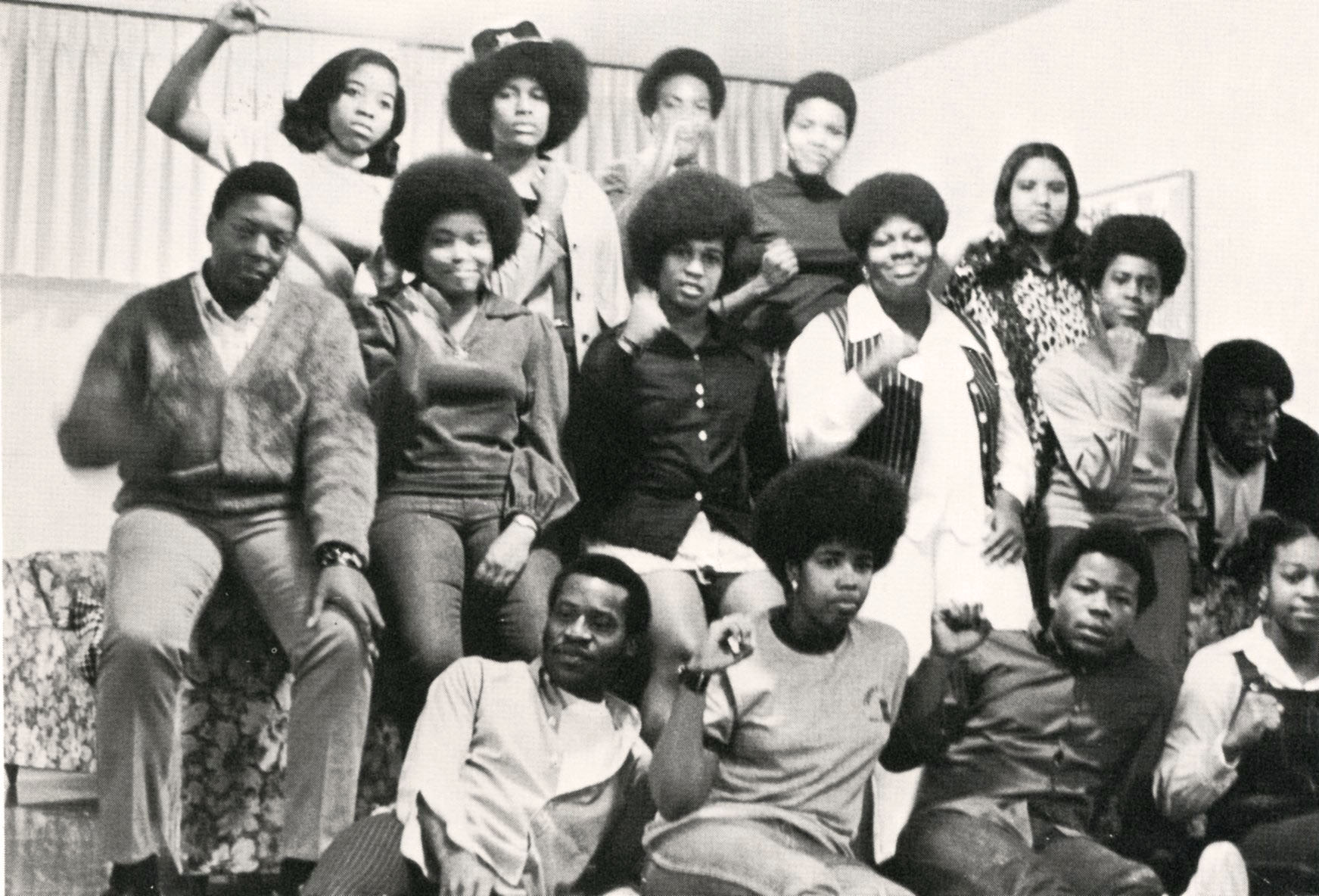 Image: Black Student Union members, Chapman College (now known as Chapman University), Orange, 1971. (University Archives)