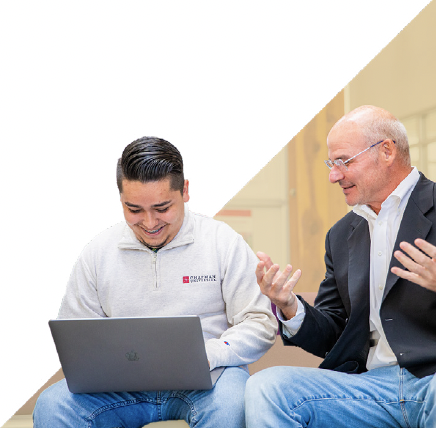 Chapman will focus on the creation of a community of inspiring and germinal teacher-scholars. With the support of an engaged and dedicated staff, these faculty members will attract talented and diverse students to an environment that challenges them academically, nurtures their intellectual curiosity and ensures their holistic development and success as lifelong learners and global citizens.
Strategies include:  
Distinguish Chapman as a community of globally impactful scholars who break new ground with their research and challenge students with their teaching, strengthening a culture that values intellectual curiosity. 
Support faculty success and advancement.

Improve full-time faculty 'density.'

Strengthen the development of existing faculty.

Advance academic excellence through germinal knowledge-creation and dissemination by launching a "germinal faculty, cluster, and target of opportunities hiring" program.

Germinality is a concept that can be applied to both ideas and their proponents, be they faculty, students, or staff members. A germinal idea contains in its essence the capacity to affect not only the discipline from which it may have arisen, but vast areas of knowledge that may appear disconnected among themselves.

Cultivate Presidential Fellowships. 

Enhance the criteria for the selection of Presidential Fellows and integrate the recruitment of Fellows with the "germinal faculty, cluster, and target of opportunities hiring" program.

Utilize Presidential Fellowships to further interdisciplinary conversations more intentionally, with structured forums that place Fellows in conversation with the larger campus community.
Accelerate an ongoing rise in national and specialty rankings, with a particular focus on measures of academic achievement, financial resources, and graduation/ retention rates.
Specific long-term ranking goals being: 

U.S. News & World Report: Top 100.

Argyros School of Business and Economics: Top 50.

Fowler School of Law: Top 70.

Dodge College of Film and Media Arts: Maintain No. 4 Ranking.
Support student success by developing a wraparound model of holistic advising in which students can succeed academically, even when facing personal, financial, medical or mental health concerns.
Improve Student Retention.

Target Undergraduate Retention Rate: 93%.

Target Undergraduate Graduation Rate: 89%.
Enrich the Chapman Experience by expanding opportunities for students from underrepresented communities; pursue formal recognition as a Hispanic-Serving Institution (HSI).
Enhance our Diversity, Equity and Inclusion (DEI) ecosystem so that programs that support intersectional approaches to DEI (e.g. religious, ethnic, gender, ability, economic, political and more) work in concert to advance Chapman's overall DEI objectives.

Chapman University is now one of 51 emerging HSI, or eHSIs in California, with a population of 18% Hispanic or Latino students. We will further our efforts to gain full HSI status.
Optimize the university library as an academic hub promoting information literacy.
Promote a culture of pre-eminent and sustainable research, creative and scholarly Inquiry.
Assess and reorganize academics to ensure relevance, performance and efficiency.
Refine the portfolio of new undergraduate and graduate programs.