Diversity and Inclusion at Chapman
»

Student & Alum Stories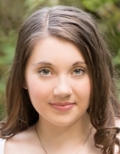 Gwyn Fraley
Chapman Student '20
To me, diversity and inclusion means being accepting and open to the opinions and needs of others. In my time at Chapman, I joined the Advisory Group on the Status of Women and just recently became the undergraduate student co-chair for the group. In such a short amount of time, my involvement with this group has altered how I think about diversity and inclusion.
I have had the opportunity to learn about all different events and services at Chapman. More importantly, I have had the ability to connect with peers as well as faculty and staff who are also passionate about diversity. I feel so empowered to advocate for and enact positive change. It is crucial that everyone's voice is heard, no matter their background or current views. The first step in making any community more inclusive is listening and working to understand everyone's needs and wants.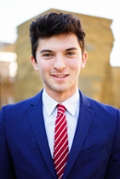 Mitchell Rosenberg
Chapman Student '19 and President of the Student Government Association
To me, diversity and inclusion spans such a wide range of an individual's personal identifiers and their surrounding community's efforts to support, understand, and include. Diversity, in all its forms, within our community at Chapman is so important to further our education as well as our goal to becoming global citizens.
Within the Student Government Association, we have a Diversity Affairs committee that does a great job advocating for students who may often feel unheard. Our committee supports struggling populations and works around-the-clock to better our Chapman community for everyone. I, as many others, have seen first-hand the benefits of a diverse society, diversity of thought and opinion, and diversity of backgrounds. It allows me to reflect on my own experiences and learn from others. Through a lens of diversity and inclusion, I have been able to put myself in others' shoes and empathize with struggles they have gone through. It is of the utmost importance that these areas continue to be pillars of our education and experiences at Chapman to help our society grow.
Lara McKinley
Chapman Alum '16
What drew me to Chapman University is the 4 Pillars in Attallah Piazza: Spiritual, Social, Intellectual, and Physical and what they stand for. During my time at Chapman, I have seen a considerable change within the campus. Not all change happens quickly but with a better understanding of how diverse our population is and the importance of us as a college working together, change can and does happen. One of my first classes at Chapman was Sociology of Race and Ethnicity with C.K. Magliola. This was one of those classes which one never forgets and which changes your whole psyche regarding what you thought about and who you are. I thought I was pretty open minded, an older student who had returned to school, spent 15 years in the military with a diverse blend of ethnicities and races of people and after this class everything I thought I understood regarding race and my ideas regarding freedom, I started to question and I LIKED IT. I met some of the most amazing people in this class and we are still friends to this day. One of the reason's I chose Chapman was because of the small classroom size. The campus reminded me of a visit I once took to Boston, the brick on the walls, cobblestone streets and Sears and Roebuck cut out Craftsman houses lined up down every block. I had transferred from a local junior college and I was reintegrating back into school late in life. In 2010 I took my first class at Chapman, Medical Sociology with Dr. Roberta G. Lessor and I thought the class would be easy. I had 20 plus years as a civilian in the medical field and had served in the military for 15 years, 9 of those months in Iraq as a Combat Medic with the Marines. I don't think I realized how difficult it would be reintegrating back into college. Our class was located in the Argyros Building where there was major remodeling being completed. Each time I came to class I heard banging above me which shook the whole room we were in, it sounded like bombs going off and machine gun fire. One day I quietly pulled Dr Lessor aside and asked her if I could speak with her. I told her my experiences in the Iraq and the War and how the loud noises in the classroom were affecting me, I mentioned I was diagnosed with PTSD. I told her I really enjoyed her class and wanted to continue taking it but I would have to drop it because of the location and the stress of the noises. I told her I was very disappointed. Dr. Lessor suggested I wait and not drop, she said she understood my dilemma and was going to make some calls. The very next day our class received an email telling us our classroom had been changed. I was blown away, I felt like I was heard and I didn't drop the class. And like my Sociology of Race and Ethnicity class, this is another class which stays with me here at Chapman. When asked by other Veterans about Chapman and how supportive are the professors here, this story always comes to mind. I am a part of the Chapman Diversity Project. The Diversity Project endeavors to bring students, staff, faculty, administrators and trustees together for meaningful dialogue focused on developing strategic priorities and recommendations for diversity and inclusion at Chapman. There are 8 Advisory Groups and I am one of the Co-Chairs in the Advisory Group on the Status of Military Affiliates. This is a wonderful experience it is a way it to help provide Chapman Veterans, and Military Affiliates with the resources; support, and advocacy needed to help succeed in their education and college life. It's wonderful to meet with a diverse range of students, veterans and faculty and brainstorm regarding Veteran advocacy here at Chapman.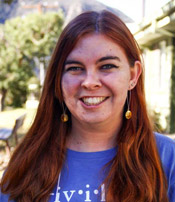 Jillian Strong
Chapman Alum '16
My involvement with learning about identity and diversity started at a young age for me and only grew to its full potential when I came to Chapman University. I couldn't be happier about the woman I've become, and I owe a lot of that to Chapman's diversity resources. It has allowed me to get involved with the LGBTQ community, Feminism, social activism, and even granted me the opportunity to minor in LGBT Studies. I have found myself as a person and can now say I am proud of whom I am. Attending Chapman allowed me to meet individuals from all different paths of lives, and I've been so grateful to meet them all along the journey and seen the benefits from our paths crossing. In my own path, I hope to one day to take what Chapman diversity programs have taught me, and use it to leave a permanent and positive effect on future generations. So while I have many experiences I could point out, the only way I could image to truly express it all at once is to do my best to grab them all into one diverse bubble and burst it upon a positive effect on the world today.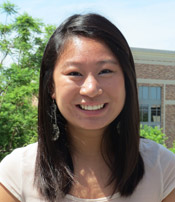 Lotus Thai
Chapman Alum '17
Chapman University provides an endless list of opportunities for its students. Like many other students, I am involved in several of these organizations including University Programming Board, Student Engagement, and Solar Decathlon. Through all of these organizations, I have learned so much about diversity and identity. An example of this would be the University Program Board's general meetings where guest speakers are invited. In one meeting, we had a Resident Director from the Office of Housing & Residence Life come speak to us. He taught us about stereotypes, the difference between being an ally and an advocate, and had us participate in a version of Cross the Line. In this interactive activity, we had to step forwarded if one of his statements applied to us. Some statements were simple such as, "I am in a relationship," while some were more personal, "I identify with the LGBTQ community." Seeing my fellow colleagues confidently stepping forward made me so proud to be part of an accepting and brave community. The activity also helped me realize that I'm not alone in situations and that there's always a light at the end of the dark tunnel. By being involved, I have learned about always having vegan options at events, providing handicapped accessible entries and exits, and using unoffending language. Diversity is everywhere, left and right. It doesn't take much to realize the wholesome environment around you, but it does make a huge difference in your life when you do.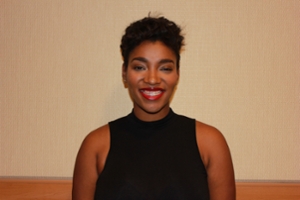 Tonicia Williams
Chapman Alum '17
In Fall of 2014 I took an Islam in the Modern World class, where we not only explored the history and traditions of Islam but we also had two Muslim graduate students sit in on the class to answer any questions we might have or refute our misconceptions. With the much of the Western world's current views on Islam, the Middle East and current world issues such as ISIS, this class provided me with the opportunity to learn the reality of a religion and culture that I previous had very little knowledge about while being able to open and honest about the misunderstanding and stereotypes I had. The discussion-style classroom setting provided me with the resources to interact with a range of various perspectives and opinions and made me much more aware of the truth of Islam and how to be more inclusive and knowledgeable of a culture and religion so different from my own. When I took a class that focused heavily on colonialism and postcolonialism as a freshman, my eyes were opened to how experiences of race can vary so greatly. There were racist images that I had never been exposed to as an international student who lived my whole life in the Caribbean. Imagery such as King Kong as a representation of the black man had never crossed my mind as being offensive until I had the chance to study such representations in depth. Classes such as this as well as interactions with various people in the Chapman community have taught me the importance of each individual's experiences. I have learned that even within my own race, the understanding of difference within what seems like such a similar group is so important. I am a member of the Black Student Union on campus at Chapman and had the honor of serving as their vice president. BSU has shown me how diverse any group of people can be. We have African-American students from a range of different demographic backgrounds, Caribbean, African, European students who are all black and even students from different races and ethnicities who serve as wonderful allies to the black community. BSU is one of the most important aspects of my life at Chapman as it serves as a safe space where I can be unapologetically myself but also, a space where I can learn about the struggles, joys, accomplishments, experiences of my fellow BSU members. BSU is definitely a melting pot and we are so diverse even within our one organization. You can find diversity anywhere you look. It presents itself in many more ways than we typically see it. I feel that diversity is to be celebrated. Even if you do not agree with someone's point of views or aspects of their life, acceptance and a willingness to appreciate everyone's opinions as valid as your own is priceless. Difference is a wonderful thing and providing opportunities to celebrate difference outside the classroom can prove to be an invaluable resource. Look beyond the demographics that you see at Chapman. Yes, the numbers are important but there are so many other areas of diversity you can find on our campus that don't just deal with race. Look at each individual as their own person and you'd be surprised at all the incredible things you can learn from the Chapman community.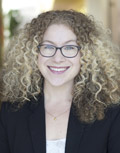 Brittany Deneau
Chapman Alum '17
One of the first research projects I was assigned as an MLD student was to look at an oppressed group (legally protected class) that was outside an identity of my own and conduct extensive research on a barrier placed in front of that identity. I identify as white and chose to explore the barriers faced by women of color who are interested in pursuing education and work in the STEM fields. By looking at the double bind these women face (experiencing both gender and racial oppression in the lab or classroom), my perspective on the opportunities available to me as a white woman was impacted drastically. I now know that my institutional privilege affects not only my own life but the experiences of people I will never meet and that I have a responsibility to be cautious of exploiting that privilege to the detriment of the success of others. Most of my classes either surround or touch the topic of diversity in higher education. It is extremely impactful to be surrounded by a diverse set of perspectives and experiences to hear and see how oppression plays out differently in each unique individual's life. Everyone has experienced oppression but the most valuable part of hearing how others were oppressed is to see parts of your own identity in the oppressor's shoes. While I'm not active in any organized initiatives toward diversity and inclusion as a graduate student, I take advantage of every opportunity to become involved with my educational program and take personal responsibility to celebrate and delight in the unique sets of identities of my fellow MLD students. Additionally, through my continued research regarding access for young women of color to resources in the STEM fields I have become passionate about supporting organizations that provide pathways for these future biologists, computer scientists, engineers and mathematicians to explore the subjects they love without discouragement. I dream of creating a place for these girls to learn about successful women of color in STEM who have come before them where they can find answers, support, resources, and encouragement to contribute to these important and exciting fields. Chapman is an institution that is building and growing rapidly—not just in size but in celebrating and exploring diversity on campus and in our surrounding communities. It's exciting to be a part of a community that is eager and ready to make big change and I would invite anyone interested in being a part of that change to get involved and/or join our growing family.