»

Events
Lecture Series 2022-2023
Expand the sections to view the more information for each event.
FILM SCREENING: Three Minutes - A Lengthening
Screening of Three Minutes - A Lengthening
Recipient of the Inaugural Yad Vashem Award for Cinematic Excellence in Holocaust Documentary Filmmaking
September 20 | 7 p.m.
Chapman Auditorium • Memorial Hall
Intrigued by three minutes of film footage by David Kurtz of his 1938 visit to his hometown of Nasielsk, Poland, and subsequently by reading Glenn Kurtz's book, Three Minutes in Poland, filmmaker Bianca Stigter asked a fascinating question: Could she make those three minutes last longer, to keep the past in the present?
Her documentary, Three Minutes—A Lengthening is an experiment that turns scarcity into a quality. It investigates the nature of film itself and the perception of time. The film is narrated by award-winning actress, Helen Bonham Carter. 


 
Conversation with filmmaker Bianca Stigter (photo by Annaleen Louwes) and author Glenn Kurtz (photo by Franziska Liepe) will follow the screening and will be moderated by Stephen Galloway, Dean of the Dodge College of Film and Media Arts.
This event is co-sponsored by the Dodge College of Film and Media Arts
Charlotte Salomon: A Life Before and After Auschwitz
October 25 | 7 p.m.
A Zoom Event
In this Zoom presentation, London-based scholar Monica Bohm-Duchen explores the work for which Salomon is best known, a sequence of nearly 800 gouache images entitled Life? Or Theater?, a monumental masterpiece that is sophisticated, complex and haunting, and which some consider to be the first graphic novel.
Monica Bohm-Duchen is an independent writer, lecturer, and exhibit organizer. She was co-curator of
Life? Or Theater? The Work of Charlotte Salomon
shown at the Royal Academy of Arts in London. She is the founding director of Insiders/Outsiders, an ongoing celebration of the contributions of refugees from Nazi Europe to British culture and beyond.
FILM SCREENING: Charlotte
October 27 | 7 p.m.
Chapman Auditorium • Memorial Hall
The animated film Charlotte tells the story of Charlotte Salomon, a young German-Jewish artist who came of age in Berlin on the eve of the Second World War. Gifted and fiercely imaginative. Charlotte embarked on a quest to do the extraordinary—indeed, to do something that had never been done before. The result is a timeless masterpiece of some 800 gouache images entitled Life? Or Theater? in which Charlotte depicts her life. Charlotte's life ended in Auschwitz when she was only twenty-six.
Charlotte was a labor of love for Julia  Rosenberg, one of Canada's top film executives and producers who first  encountered Salomon's work when she was a teenager. Charlotte's story is brought to life by an extraordinary cast including Keira Knightley, Brenda Blethyn, and Jim Broadbent.


Conversation follows the screening with producer Julia Rosenberg moderated by Jennifer Keene, Dean of the Wilkinson College of Arts, Humanities, and Social Sciences.
An Interfaith Service of Remembrance for Kristallnacht
November 8 | 7 p.m.
Wallace All Faiths Chapel • Fish Interfaith Center
For the 15th year, Chapman University gathers as an interfaith community to commemorate Kristallnacht. We remember those targeted by the antisemitic violence that swept across Germany and Austria on November 9-10, 1938, and we honor the courageous few who dared to stand with the persecuted and defy Nazi authority.
At this year's event, Jeffrey Kopstein, Professor of Political Science at the University of California, Irvine will bring his disciplinary expertise as a political scientist and his wide-ranging knowledge of the history of anti-Jewish violence to bear on the events of Kristallnacht. 
Funded in part by The Sally and Jerry Schwartz Endowment for Holocaust Education and The John and Toby Martz Distinguished Lecture in Holocaust Studies
Co-sponsored by the Rodgers Center for Holocaust Education, Fish Interfaith Center, and Chapman Interfaith Council
This event is presented in partnership with the Fish Interfaith Center
Virtual Events Available on YouTube
Lectures & Events (2021-2022)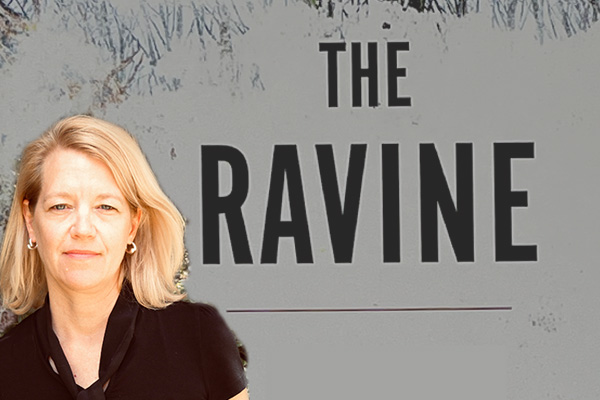 Wendy Lower
The Ravine: A Family, A Photograph, a Holocaust Massacre Revealed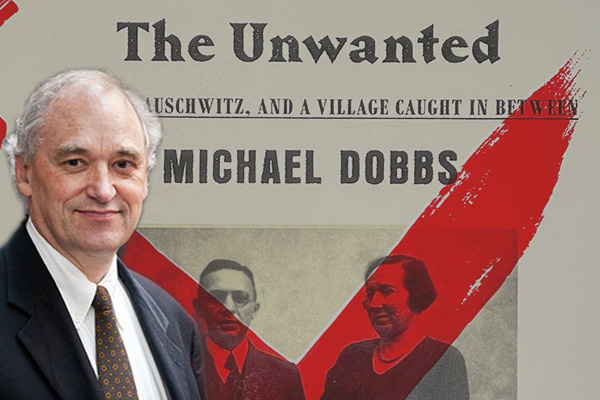 Michael Dobbs
The Unwanted: America, Auschwitz, and a Village Caught in Between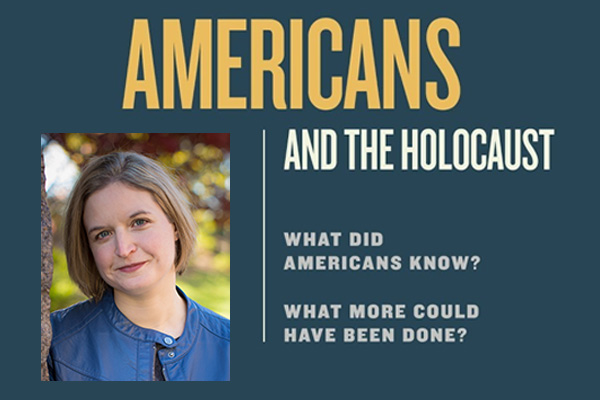 Rebecca Erbelding
Themes from "Americans and the Holocaust" Exhibit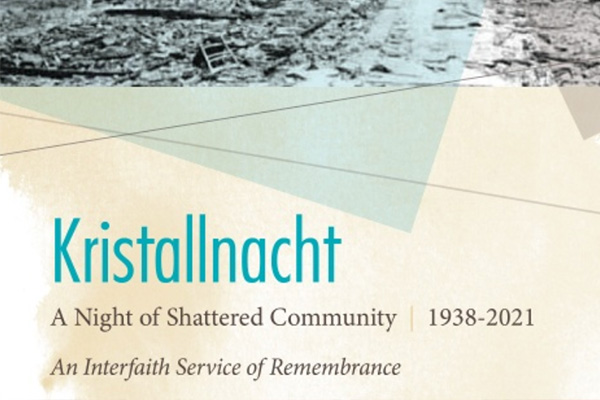 Glenn Kurtz
Who Will Tell Our History?, a special message presented at our annual interfaith commemoration of Kristallnacht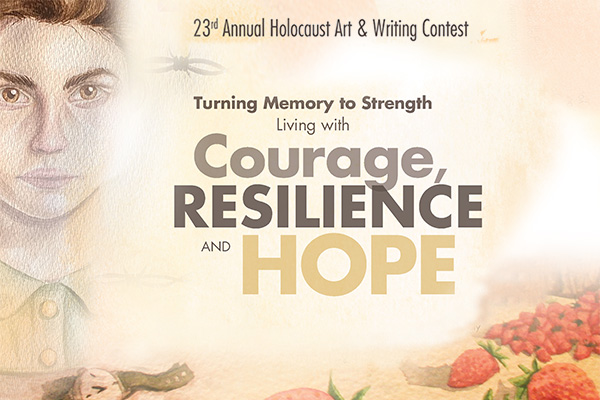 Holocaust Art & Writing Contest
Turning Strength to Memory: Living with Courage, Resilience and Hope, with a special message from Esther Safran Foer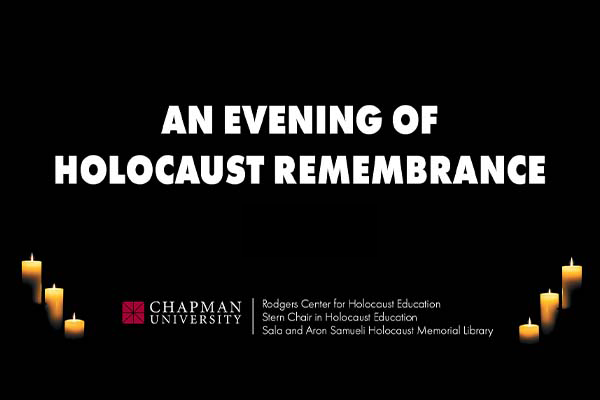 An Evening of Holocaust Remembrance
The Jewish World of Raphael Lemkin and the Question of Genocide, presented by David M. Crowe
Lectures & Events (2020-2021)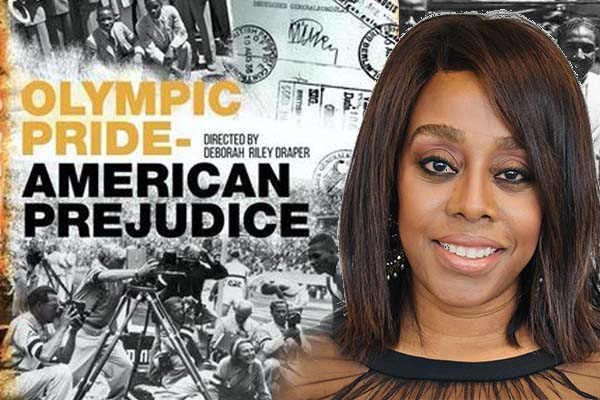 Deborah Riley Draper
Olympic Pride, American Prejudice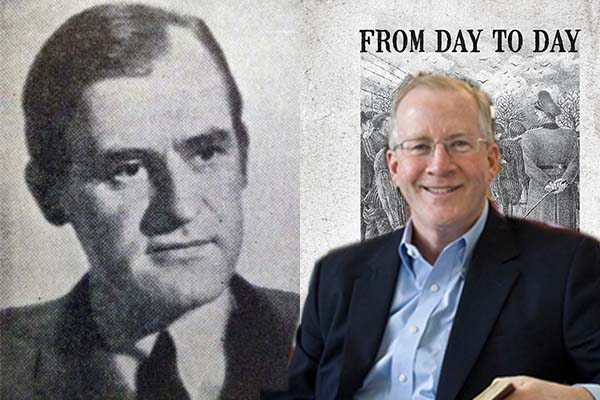 Timothy J. Boyce
From Day to Day: The Hidden Diary of Odd Nansen, a special message presented at our annual interfaith commemoration of Kristallnacht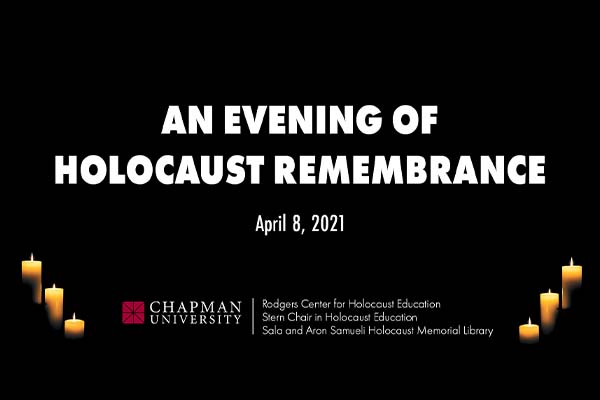 An Evening of Holocaust Remembrance
Excerpts from Readers' Theatre, The Worlds Within the Words of Elie Wiesel, and special message by Rabbi Ariel Burger.