»

Ralph and Sue Stern Chair in Holocaust Education

In September 2000, a major gift from Ralph and Sue Stern endowed a faculty position, the Stern Chair in Holocaust Education, thereby assuring that Holocaust education will be a vital part of Chapman University curriculum for generations to come. The chair honors the 1.5 million children who perished in the Holocaust, as well as members of the Stern family who were among the more than 250,000 individuals who died in the death camp Sobibor.
Holocaust History Minor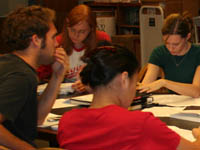 Students minoring in Holocaust history take courses with faculty in the History Department, including the holder of the Stern Chair in Holocaust Education and the founding director of the Rodgers Center for Holocaust Education, Dr. Marilyn Harran.
Gold/Weinstein Family Visiting Professor in Holocaust History and Jewish Studies
Thanks to a gift in 2008 from the Gold/Weinstein family, students have the opportunity to study with internationally recognized visiting scholars. The inaugural holder of the professorship in spring 2009 was Dr. Michael Berenbaum, former project director of the United States Holocaust Memorial Museum and currently director of the Sigi Ziering Institute at American Jewish University.