AbbVie Vice President/Health Economics Outcomes Research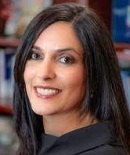 Sepideh F. Varon, PhD, is Vice President / Health Economics Outcomes Research. Her team is comprised of skilled researchers who conduct rigorous and innovative pharmacoeconomic & outcomes research.  She joined AbbVie/ Allergan in 2008 and started as GHEOR Director for the neurosciences therapeutic area where she developed the outcomes research strategy for BOTOX® across multiple indications, including leading health economics & outcomes strategy for the global launch of BOTOX® Chronic Migraine (now approved in 86 countries).  Sepi is a seasoned researcher and has published over 40 peer-reviewed manuscripts and has lectured at multiple universities including USC, UCI, Chapman University and University of Washington (Seattle, WA).  In addition, she is an Affiliate Assistant Professor at the University of Washington where her team oversees the fellowship in Pharmaceutical Outcomes Research & Policy with the University.  
Prior to coming to AbbVie, Sepi worked at Amgen Inc. and Mercer.
Sepi is an Executive Board Member of TVT Community Day School (Irvine, CA) and part of the City of Hope (Orange County) President's Advisory Council.  Sepi also leads the AbbVie-Allergan partnership with the Healthcare Businesswomen's Association (HBA) and is an advisory board member for the Orange County Healthcare Businesswomen's Association (HBA).  She was recently awarded 2020 Luminary Award by Allergan-HBA.
She earned her holds a PhD in Health Services Research from UCLA, a Master's in Public Health from Boston University and a Bachelor's degree in psychology also from UCLA.