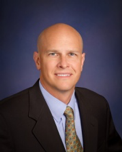 Paul A. Cook is the General Manager of Irvine Ranch Water District. Irvine Ranch Water District provides retail water and sewer service to nearly 500,000 customers in central Orange County. IRWD is well known as an industry leader in many aspects of water quality, supply reliability, and other innovative programs.
Mr. Cook is a registered civil engineer with nearly 30 years of experience with water and wastewater systems in both the public and private sectors. Prior to his appointment as General Manager, Mr. Cook served as the District's Assistant General Manager. Before joining IRWD, he served as the Manager of Engineering for Central and West Basin Municipal Water Districts in Los Angeles County where he was responsible for a capital improvements program, which included one of the largest water recycling projects in the nation. Mr. Cook began his career in the construction industry, building both commercial and public works projects.
Mr. Cook received his Bachelor of Science degree in Civil Engineering from the University of Pacific in Stockton, California. He went on to earn a Master of Science degree in Civil Engineering from California State University Long Beach and an MBA from the University of California at Irvine. In 2002, he was elected to the Board of the Orange County Water District where he served through 2005, including a term as Vice President. He currently serves on the Board of Directors for the WateReuse Association. He is also the Chair of the Board of Governors at Chapman University in Orange, California.