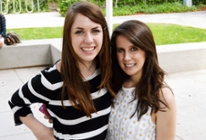 The Department of Art alumni have gone on to do great things all over the United States and in several countries around the world, including graduate school, major gallery shows and other wonderful things. We do the best we can to keep up with them.
Help us stay connected by sending us some information!
Click on the links below to see where our dedicated Chapman Art graduates have gone and what they are doing. Our alumni are vital contributors in the art world, their communities, and serve an important role in Chapman's continued success and rise in prominence. Please check back often for updates.