Undergraduate Admission
---
Last Minute Application Tips
»

Last Minute Application Tips

If you're applying close to the application deadline, don't worry: you're not alone. And our office is happy to help you throughout the admission process. For starters, here are some common tips for you as you put your finishing touches on your application:
If you're applying to a talent program, get your application in ASAP.

Applicants to talent-based programs need to submit a

Creative Supplement

, and you won't get access to your Creative Supplement until 24-48 hours after you submit your Common App!

Not all items need to be submitted by the deadline

. Several items—including those not submitted directly by you, such as letter(s) of recommendation, official test scores (

if you are providing scores

) and mid-year transcripts—can be submitted after the deadline. What we do need is your Common App and Creative Supplement if applying to a talent program.

If you haven't logged in to your Application Status Page, do it!

Login information is in the email that confirmed we received your Common App. Your Application Status Page is where you can submit missing materials, track your application and eventually get your admission decision.

Breathe!

Remember to breathe! You're almost done with your application, and we hope you relax and even have some fun with it.
Common Application Tips
Looking for insight on how to answer questions in the Common Application? Visit our Application Tips page!
Frequently Asked Questions (When Applications are Nearly Due)
When do I get access to my Application Status Page?
Your Application Status Page, which is where you will upload your Creative Supplement and other application materials.
On weekdays, you will be able to access your Application Status Page within 24 hours of submitting your Common App. If you submit your Common App on a weekend, you'll get access on Monday.
I'm having trouble uploading my Creative Supplement. What do I do?
Should I apply test optional?
The short answer is, if you believe your score positively reflects your ability and potential, then submit them with your application.
You can find more details
—including average test scores and GPA for admitted students—on our
Test Optional page
.
Why aren't my test scores showing in the preview of my application?
Chapman is test optional and has limited our admission committee's ability to view the testing page within the Common Application.
As a result, all submitted applications will display this area in your application PDF as blank. If you are applying with test scores (not test optional), and inputted those on your application, don't worry. Our admission committee will still receive and review those scores, despite the PDF displaying the area as blank.
Once you submit your application, you can login to your Application Status Page where you can view your self-reported scores. If you run into any issues, let your counselor know.
Can I get an extension on submitting my application?
Why isn't my application material (recommendation, final grades, etc.) showing up on my Application Status Page?
It can take up to 1-2 weeks from the time we receive the document or report for it to reflect on your Application Status Page. As long as it's submitted, you should be good to go. If it is not showing by two weeks after submission, please email us at admit@chapman.edu.

Last-minute Application Tips from our Counselors
Our admission counselors Garrett, Juliet and Tanaz recently hosted an Instragram Live where they shared some of their tips and music recommendations. Watch it below and be sure to follow us to be alerted when we go live in the future.
View this post on Instagram
Still Got Questions?
If you have questions that aren't answered here or on our website, please contact the Admission office via:
Note: We get a lot of questions right around the application deadline. We try to respond as quickly as possible, but please bear with us if we can not respond immediately.
Take a Self-Guided Tour
---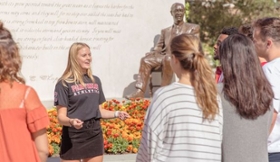 Virtually explore Chapman in this student-led tour through our Orange Campus. You'll be able to visit classrooms, hang-out spots, our residence life area and much more!
Office of Admission Contacts
---
Email us:
Call us: (714) 997-6711
Send your documents:
Chapman University
Attn: Office of Admission
One University Drive 
Orange, CA 92866
Follow Us on Social Media
---
Follow us on social media for tips, news and updates about applying to Chapman University:

 Admission Instagram

 Admission Facebook

 Admission Twitter

 Admission YouTube