Philosophy Gives You Career Options
Which fields can you go into with a philosophy degree? The short answer is "almost any field you want." As the Times of London noted all the way back in 1998, philosophy is "the ultimate transferable work skill" — and the same holds true today.
There are job opportunities for philosophy majors in fields as wide ranging as business, law, medicine, journalism, computer science and more.
Why such a wide range of options? A few reasons:
Studying philosophy

develops your critical thinking skills

, including your ability to understand issues from multiple perspectives and envision creative solutions to problems. These skills are invaluable in any job.

Being able to think in abstract terms helps you think more easily in concrete ones

. If you can reason and write clearly about abstract and controversial matters (like the nature of free will, to use an actual philosophical example), then you'll be well prepared to reason and write about more straightforward matters in your line of work.

Philosophy majors tend to be

well-rounded individuals

able to converse and reason about a wide range of topics. These attributes can give philosophers an edge in the job market and in gaining admission to professional programs in fields like medicine, business and law. (More on that below!)
When it comes to finding a job with a philosophy degree, the key is to know how to market your skills as a philosopher. It isn't your knowledge of Hume or Montesquieu or any other philosopher or philosophy that will land you a job with businesses and nonprofits; it's the writing, reasoning and analysis and life skills that understanding philosophy helps you hone.
Philosophy Pays
And not just in the metaphorical sense. Though studying philosophy certainly will enrich your life, it also pays literally.
In fact, Wall Street Journal data (from PayScale) shows that by mid-career, philosophy majors surpass many other fields that tend to have higher starting salaries. Philosophy majors, on average, increase their salaries 102% from starting to mid-career.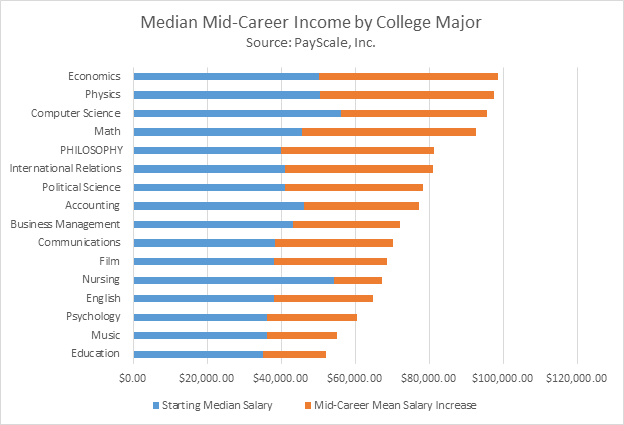 But don't just take it from us. You can also check out PayScale's page on Philosophy salaries, broken down by job, or this Forbes article about how much humanities majors (including phil majors) earn.
Philosophy will (probably) Get You into Grad School
We say "(probably)" because whether you get into a graduate program ultimately comes down to you.
But the fact is: philosophy majors outperform most other majors on most standardized tests for graduate study, making philosophy a solid option if you're thinking about:
Medical school

: Philosophy majors have a higher acceptance rate to medical school than any other major, including biology.
Law school:

In a tie with economics majors, philosophy majors outperform all other majors on the LSAT.
MBA programs

: Philosophy majors outperform business majors by 15% on the GMAT.
Graduate school in general: Philosophy majors outperform all other disciplines on the Verbal and Analytical Writing sections of the GRE. They also outperform all other humanities majors on the Quantitative section.
Philosophy Makes a Great Double Major (or Minor)
If you're thinking about pursuing multiple interests in college, keep philosophy in mind. A philosophy degree combines easily with other majors. This means that you don't necessarily have to choose between philosophy and another major that interests you. If you want, you can pursue both.
This comes down to the intrinsically interdisciplinary nature of philosophy. For example:
Philosophy of mind examines fundamental questions that emerge from psychology and neuroscience.

Philosophy of science, literature, law and religion explore fundamental questions arising in those disciplines.

Classes in business, as well as in medical and environmental ethics, offer you an opportunity to explore the ethical dimensions of different fields.
Many philosophy majors choose to double major because they find that their study of philosophy enhances their other major, and that their other field of study makes them a better philosopher.
Philosophy Exists Alongside the Sciences
Finally, philosophy is a much more modern discipline than many people would have you believe. These days, plenty of schools (Chapman included) situate philosophy firmly alongside the sciences.
The reason? Philosophy and science are integral to one another. After all, it's up to philosophers to help guide the way forward on issues such as medical ethics, environmental sustainability and many more. And because modern philosophy is less old, dusty books and ivory towers and more critical engagement with other disciplines in a way that truly matters, you will be able to find work outside of academia as a philosophy major.
---
Want More Info on Philosophy?
Here are a few other resources that you can tap into to learn more. We hope they help.
Chapman University is a private university located in Southern California. We offer over 100 majors and minors, and we're committed to helping you get the best education possible. You can contact us at admit@chapman.edu or (714) 997-6711.