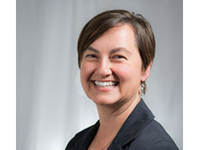 Assistant Vice President, Educational Technology
(714) 744-7934, remy@chapman.edu
Jana Remy leads the Educational Technology Services division, which includes oversight of Classroom Technology and Instructional Technology at Chapman University. In this role she works with faculty, administration and the campus IT department to ensure that both digital and physical learning environments are functional, accessible, and well-supported. She co-chairs the Classrooms Working Group and the Advisory Group for Disability/ Accessibility.
During her eight years at Chapman Jana has led projects that range from the building of the Chapman ePortfolios platform, to the installation of next-generation technologies into the campus courtroom, to the development of a service-oriented space for faculty training called the Tech Hub.
In addition to her administrative work, Jana teaches Digital Humanities, the History of Disability in America, and Environmental History. She holds a Ph.D. in History from UC Irvine. An early adopter of many online tools, Jana has a blog archive stretching back more than fifteen years and frequently contributes to Instagram.