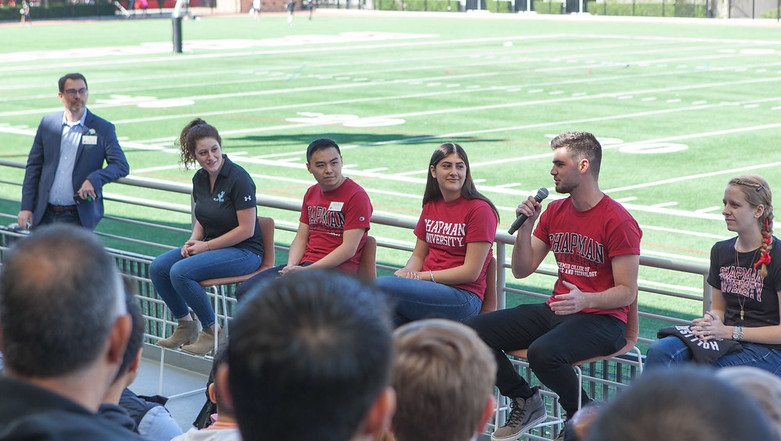 Schmid College of Science and Technology
»

Discover Chapman Day 2019 - Schmid College Overview
Panelists
Welcome to the Schmid College of Science and Technology Overview Session of Discover Chapman Day! Interim Dean Jason Keller will lead the session and moderate a lively Q & A between the audience and our student panelists.
Do you have a question for the panel? 
Text SCHMIDCOLLEGE to 22333 once to join the discussion, then text your message OR
Respond at pollev.com/schmidcollege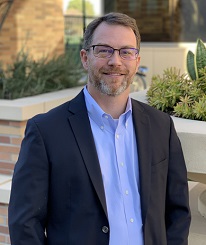 Dr. Jason Keller
Interim Dean, Schmid College of Science and Technology
Keck Center for Science and Engineering, Office 143
jkeller@chapman.edu
Ph.D. in Biological Sciences from University of Notre Dame. Expertise: Carbon Cycling; Ecology; Global Change; Greenhouse Gases; Peatland; Salt Marsh

Shun Kato
Junior
B.S. in Biochemistry and Molecular Biology with a minor in Health Sciences
Currently, Shun is an undergraduate researcher in the Peptide Chemistry Lab where he works in creating novel therapeutics for diseases. During his time at Chapman, he has been a peer advisor for the Biochemistry and Molecular Biology program, served as treasurer of STEMtors - our science outreach club, volunteered at St. Joseph's Hospital, and worked as a medical scribe. His plans for post-graduation include a research fellowship abroad, and applying for medical school and Ph.D. programs.

Ashley Nichols
Junior
B.S. in Biochemistry and Molecular Biology with a minor in Leadership Development Studies
As a leader on campus, Ashley has served as a General Chemistry Lecture and Lab Supplemental Instructor and is currently the Biochemistry and Molecular Biology Peer Advisor. She remains active in several clubs and organizations on campus, including Schmid Student Leadership Council, STEMtors, Gamma Beta Phi Academic Honors Society, and Kappa Alpha Theta. For the past two years, Ashley worked in Dr. Montazeri's laboratory to understand how resistance to cancer treatments in breast cancer cells occur and develop. This past summer, she attended the Summer Undergraduate Research Fellowship at Scripps Research Institute where she worked in an immunology laboratory to understand proteins involved in autoimmune diseases. Following graduation, Ashley plans to get her Ph.D. in Cancer Biology.

Sabelle O'Connell
Senior
B.S. in Mathematics and Computer Science with a minor in English
Sabelle is the Peer Advisor for Mathematics. She is president of the Math Club and is involved with several other student organizations on campus. This past summer, she was a database intern at University of California, San Diego. Following graduation, Sabelle is going to Spain for a year to teach English. Then she plans to go to graduate school in Applied Mathematics or Machine Learning.

Jacy Sera
Senior
B.S. in Environmental Science and Policy with minors in Nutrition and Economics
Jacy is an undergraduate research assistant in the Social Determinants of Health Lab, where she uses GIS and sociological data to map patterns of violence in areas of Los Angeles. In addition to her studies, she works as a communications assistant for the Southern California Coastal Water Research Project. On campus, she is an active member of the Schmid Student Leadership Council, STEMtors, and the Chapman University Hawaii Club. Off campus, Jacy has served as a research intern for Hawaii's Ocean Mammal Institute, and as a student volunteer for Global Medical Brigades in Ghana.

Crosby Tinucci
Senior
B.S. in Biological Sciences and Spanish with a minor in Environmental Science
Crosby started at Chapman as a student-athlete on Chapman's swim team. He now serves as President for both Sigma Delta Pi, Chapman's Spanish Honors Society, and the InterVarsity Christian Fellowship club. This past spring, he was inducted into the first cohort of Phi Beta Kappa, the nation's oldest honors society. Crosby also is the Biological Sciences Peer Advisor and a grader for an Introductory Biology course. For two years, Crosby was an undergraduate research assistant in Dr. Keller and Dr. Zalman's Wetland Biogeochemistry Research Lab, where he investigated how carbon is cycled in wetland ecosystems. Next semester, Crosby will be going with a member of the Spanish faculty to document the endangered languages of the Peruvian Amazon.

Tiffany Vallejo
Senior
B.S. in Chemistry with a minor in Political Science
Tiffany currently serves as the Chemistry Peer Advisor. Throughout her Chapman experience, Tiffany has been affiliated with many organizations on campus, including the American Chemical Society, Schmid Student Leadership Council, and the United Nations Association. Last spring, Tiffany joined Dr. Jerry LaRue's Catalysis Laboratory where she helps to design and develop an ultra-high vacuum chamber for the analysis of surface science. After graduation, Tiffany plans to go back to Honduras to develop and provide clean water systems for underprivileged communities.