Bringing together physicists from across the globe
»

Mind and Agency in the Foundations of Quantum Physics
When: May 31 - June 3, 2022
In contrast to classical physics, quantum physics attributes special significance to the act of "measurement". This has led to decades of discussions in the foundations of quantum theory. Our workshop brings together scientists and philosophers who see value in exploring whether this hints at the relevance of the first person in physics – the entity that performs the measurement. We will discuss information-theoretic, mathematical, and philosophical arguments that aim at evaluating the potential relation between quantum physics and the first person.
For example, does consciousness play a crucial role in quantum physics, as von Neumann and Wigner claimed decades ago and is this testable? Or are quantum states best interpreted as agent's subjective degrees of belief about future experiences, as QBism asserts? Or does quantum theory hint at an ontology that is more akin to an idealist worldview? And what should we make of thought experiments involving observers and quantum mechanics, such as Wigner's friend or Bell experiments with human choices?
Our participants and organizers have very different opinions on these questions, and our workshop will make these views collide head-on, in lively but respectful discussions. We hope to find some common ground and initiate discussions across fields that have so far remained separate.
We are looking forward to welcoming you to Chapman!
 More Information
Invited Speakers
In-Person Speakers:
David Chalmers (New York University, USA)
Ian Durham (Saint Anselm College, USA)

Avshalom Elitzur

 (The Israel Institute for Advanced Research)

Christopher A. Fuchs (University of Massachusetts Boston, USA)
Donald Hoffman (University of California, Irvine)
Johannes Kleiner (Ludwig Maximilian University, Germany)
Matthew Leifer (Chapman University, USA)
Markus Muller (RWTH Aachen University, Germany)
Jeff Tollaksen (Chapman University, USA)
Virtual Speakers:
Larissa Albantakis (University of Wisconsin-Madison, USA)
Leonardo Barbosa (University of Wisconsin-Madison, USA)
Angelo Bassi (University of Trieste, Italy)

Veronika Baumann

 (IQOQI Vienna, Austria)

Eric Cavalcanti (Griffith University, Queensland, Australia)
Catalina Curceanu (Istituto Nazionale di Fisica Nucleare, Italy)
Mauro d'Ariano (University of Pavia, Italy)
‪Lídia del Rio (ETH Zürich, Switzerland) (To be confirmed)

Ian Durham

 (Saint Anselm College, USA)

Lucien Hardy (Perimeter Institute for Theoretical Physics, Canada)
Jenann Ismael (Columbia University, USA)
Bernardo Kastrup (Essentia Foundation)
Adrian Kent (University of Cambridge, UK)
Kobi Kremnitzer (University of Oxford, UK)

George Musser

 (Scientific American / Quanta)

Howard Wiseman (Griffith University, Australia)
Organizers
Kelvin McQueen (Chapman University, USA)
Markus Müller (IQOQI Vienna, Austria)
Local Information and Accommodations
Chapman University is located in the heart of Orange County, California, minutes away from Disneyland, Angel's Stadium, Honda Center, and the beautiful California coastline. Learn more about exploring Orange County and Southern California here.
Venue Address is:
Chapman University
One University Dr.
Orange, CA 92866
For hotel recommendations, you can view our list of local accommodations here.
Local Airports
The closest airport to Chapman University's campus is Santa Ana Airport (SNA, also known as Orange County or John Wayne). The Airport is served by America, United, Continental, Delta, American West, TWA, and Alaska Airlines. From there you can take a Blue or Super Shuttle for $10 each way. A cab costs approximately $25.  
Long Beach Airport (LGB) is the next closest (approximately 30 minutes), and Los Angeles Airport (LAX) is approximately one hour from the University and is served by a large number of airlines. The Shuttle costs $16 from LAX. Cabs from LAX to Orange are very expensive but become increasingly reasonable if you can share them.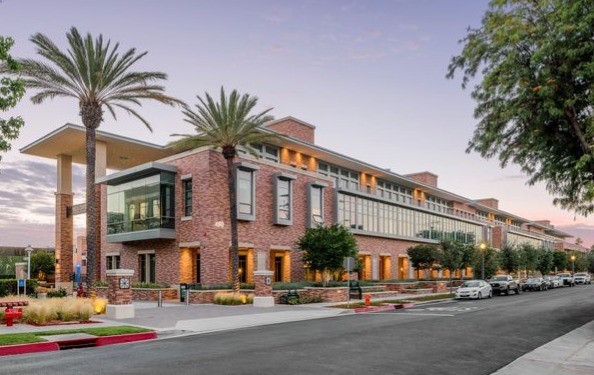 Keck Center for Science & Engineering
---
The Keck Center is the home of Schmid College and where our students and faculty conduct research using
 cutting-edge instrumentation and facilities.