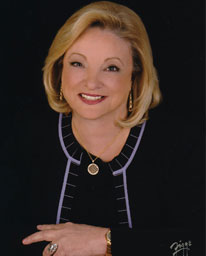 Mrs. Judith Garfi-Partridge is president of CAPA Land management LLC located in Fullerton.  Prior to this, she was president of Peartree Insurance Agency, Inc., as well as founder and president of Eastwood Insurance Services, Inc. which she grew into a multi-million dollar national corporation. During her tenure, Eastwood Insurance was ranked as Orange County's fastest growing woman-owned business and the sixth in terms of revenue by the Orange County Business Journal.
One of the first women to own a major insurance brokerage firm, Mrs. Garfi-Partridge was ranked nationally as number 353 as part of Working Woman magazine's top 500 female business owners. Orange County Woman Magazine named her one of the top five women business owners in Orange County.
Mrs. Garfi-Partridge founded the My Brother Joey Foundation to fund research on childhood diseases. The foundation is named after her brother, Joey, who was born with Down Syndrome. In its first year, the foundation pledged over $1.5 million in funds to three hospitals over five years: Los Angeles Children's Hospital, Oakland Children's Hospital and Children's Hospital of Orange County.
At Children's Hospital of Orange County (CHOC), My Brother Joey Foundation funded the Fetal Cord Blood Bank, which offers hope to children with Leukemia and blood disorders. At the Children's Hospital of Los Angeles (CHLA), her foundation's financial contributions resulted in medical breakthroughs for the treatment of childhood brain tumors. At Children's Hospital of Oakland, the foundation donated funds for a tissue typing research laboratory.
Mrs. Garfi-Partridge was awarded the Elizabeth Dole Glass Ceiling award by the Red Cross and named woman of the year by the Orange County Business Journal.  She received leadership honors from the Girl Scouts of America.  She has been recognized by Goodwill Industries with the Walter Knott Service Award and by the National Association of Women Business Owners (NAWBO) with a Lifetime Achievement Award.
She is an active member of the Women's Roundtable of Orange County. For more than 10 years, she served on the Board of Trustees for Orange County PBS.  She has served on the Board of Directors for the Orange County Special Olympics for more than a decade as well, serving on the regional board for the last six years.  She is very proud to be part of an organization that held the Special Olympics World Games this past summer in which Chapman University also participated. She recently joined the Alzheimer's Orange County Board of Directors to share the learning experiences she had with her brother Joey.
At Chapman University, Mrs. Garfi-Partridge serves as chairman of the Board of Governors and as an ex-officio member of the Board of Trustees. She is an active member of the Women of Chapman, and the Partridge Dance Center is named in honor of her many contributions to the College of Performing Arts. 
For fun, she has been a fan of the Anaheim Ducks and a season ticket holder from day one.  She also breeds thoroughbred horses.