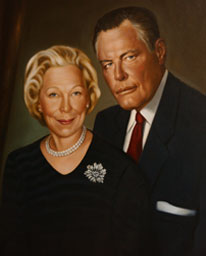 Born in Tacoma, Washington, Hugh W. Darling earned his law degree from the University of Southern California School of Law in 1927.  His 58 years in active practice of law spanned the modern history of the California Bar.  As president of the Los Angeles County Bar Association, he was one of those responsible for publishing the landmark history of that Bar, "Lawyers of Los Angeles."   
For most of his career, he was intimately involved in the development of commercial aviation as an attorney, general counsel, and a director of aviation pioneer for Western Air Lines, Inc.   He was nationally known as an expert on airline regulation, spending a major portion of his early years in practice, representing Western in the development of the federally controlled rates and route structure. 
Mr. Darling served as Mayor of the City of Beverly Hills from 1960-61 after serving on the City Council.  His appreciation of language and classic literature was grounded in a lifelong dedication to the study of the Bible and to the accurate and concise use of the English language in legal writing.  He was also fluent in Spanish, and studied the Bible regularly in both English and Spanish.  He passed away in 1986. 
Hazel Darling, the former Hazel Smith, was born in San Mateo, California.   Her family was deeply involved in the California oil business, and Mrs. Darling was a principal shareholder of Berry Petroleum, a company founded in 1909 by her great-uncle Clarence Berry. Mrs. Darling was also active in many civic organizations and supported groups seeking the humane treatment of animals.   
Hazel and Hugh Darling were married on June 12, 1937 and resided throughout their 49 years of married life in Beverly Hills, California.  On Mr. Darling's death in 1986, Mrs. Darling created a trust, which on her death the following year became the Hugh & Hazel Darling Foundation.  The purpose of the Foundation is the advancement of education in California with particular emphasis on support of legal education and programs calculated to impart a better understanding and appreciation of the legal system under which we live. 
Chapman University continues to be immensely grateful to the Hugh & Hazel Darling Foundation for its ongoing and very generous support of the Fowler School of Law, its programs and its library.  There could be no more appropriate names to associate with the law library than those of Hugh and Hazel Darling, given their lifelong reverence for language, scholarship and achievement.