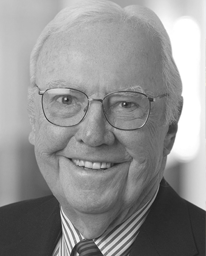 Mr. Donald P. Kennedy was chairman emeritus of the First American Corporation, based in Santa Ana, California. Mr. Kennedy's leadership was credited with expanding the small, one-office family firm, with annual sales of less than $1.5 million, into one of the world's largest title insurers, with more than $8 billion in sales and hundreds of offices in the United States and abroad.
Mr. Kennedy's tenure with the company began in 1948, when, fresh out of law school, he became associate counsel of First American, which was then known as Orange County Title Company. He quickly rose through the ranks and was appointed vice president of First American in 1951, executive vice president in 1958, president in 1963, chairman of the board in 1993 and chairman emeritus in 2003.
Additionally, Mr. Kennedy was president of the California Land Title Association and the American Land Title Association, where he chaired numerous posts. He served on the boards of the Health Care Foundation of Orange County, the Tiger Woods Foundation, The Lincoln Club, the Orange County Community Foundation, The Mind Institute, South Coast Repertory and the Bowers Museum of Cultural Art. He was Orange County chairman of the U.S. Savings Bond Program for 20 years, president of the Santa Ana-Tustin Community Chest, president of the Santa Ana Country Club, chairman of the Golden Eagle Boy Scouts of America and chairman of the Orange County Business Committee for the Arts.
Mr. Kennedy was a longtime member of Chapman University's Board of Trustees, where he served as vice chairman and as chairman of the University's Athletic Committee. He was a tireless supporter of the athletics and law programs, and his many contributions were recognized in 1999 with the dedication of Donald P. Kennedy Hall and in 2006 with the establishment of the Donald P. Kennedy Intercollegiate Athletics Program.
Mr. Kennedy was the grandson of First American's founder, C.E. Parker. He and his wife, Dorothy, had a son, Parker S. Kennedy, and two daughters, Elizabeth Myers and Amy Healey. Mr. Parker S. Kennedy serves as chairman of the First American Corporation.  He continues his father's legacy as a current member of Chapman's Board of Trustees.