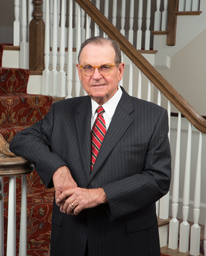 Mr. Dale E. Fowler was born at St. Joseph Hospital in Orange. The son of a construction contractor, he grew up in a two-bedroom house in Santa Ana. He graduated from Chapman University (then known as Chapman College) in 1958 with a B.A. in Economics. 
Given his strong work ethic, Mr. Fowler worked part-time as a car salesman while he attended Chapman and continued after graduation.  Even though he had no background in real estate, he invested what he could save in a small property in Huntington Beach and got a loan to build apartments.
From these humble beginnings, Mr. Fowler went on to build Fowler Properties, an Anaheim real estate investment and management firm, that grew to establish him as one of the major architects of Orange County as we know it, building, managing and leasing residential and industrial properties throughout the cities of Anaheim, Orange and Ontario and Santa Ana.
Mr. Fowler and his wife Sarah Ann have a strong commitment to philanthropy. Together, they have made many generous gifts to children's causes, education and the arts.
At Chapman, Mr. Fowler currently serves on the Board of Trustees and has provided support to such priorities as American Celebration, the Athletics Campaign, Presidential Scholarships, the Economic Science Institute, Musco Center for the Arts and the Crean College of Health and Behavioral Sciences.
Mr. and Mrs. Fowler gave the second largest reported single gift to an American law school to name Chapman's Dale E. Fowler School of Law.  This transformational gift established the Fowler School of Law on solid financial ground, allowing it to consistently enhance its programs for generations to come.