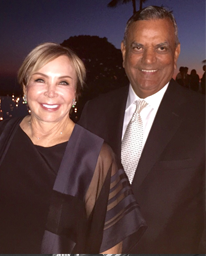 Marta and Raj Bhathal, founders of RAJ SWIM, one of the largest swimwear companies in the United States, support Chapman University with The Raj and Marta Bhathal Student Services Center, named in their honor. 
Marta Bhathal, a native of Southern California, received her B.S. from University of California, Los Angeles. 
Raj Bhathal, a native from India who came to the United States for his college education, received his M.B.A. from the University of Arizona in Tucson.
When he and Marta married, they started their swimwear company, working 40 years together before handing over the reins of the Company to their children, Lisa and Alex, who now are co-presidents. 
Always interested in professional sports, they owned the Orlando Thunder football franchise of the World League of American Football during the 1990s. In 2012, they became co-owners in the NBA Sacramento Kings basketball franchise, which includes a new arena, retail stores and restaurant complex, opening in September 2016. 
The Bhathals are philanthropists who believe in supporting education – both scholastically and culturally.  Raj is a member of Chapman University's Board of Trustees.  Marta serves on Chapman's Board of Governors, as well as on the Segerstrom Center for the Arts Board of Directors. Both have been past chairs of Chapman's American Celebration gala, to enable scholarships for worthy students to attend the university.
The Bhathals are golf aficionados, and have 2 grandsons from their daughter, Lisa, and 1 grandson from their son, Alex.