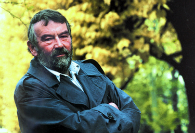 John Robert Fowles was born March 31, 1926 in Leigh-on-Sea, a small town about 40 miles from London in the county of Essex, England. He recalls the English suburban culture of the 1930s as oppressively conformist and his family life as intensely conventional. Of his childhood, Fowles says "I have tried to escape ever since."
Fowles attended Bedford School, a large boarding school designed to prepare boys for university, from ages 13 to 18. After briefly attending the University of Edinburgh, Fowles began compulsory military service in 1945 with training at Dartmoor, where he spent the next two years. World War II ended shortly after his training began so Fowles never came near combat, and by 1947 he decided that the military life was not for him.
Fowles then spent four years at Oxford, where he discovered the writings of the French existentialists. In particular he admired Albert Camus and Jean-Paul Sartre, whose writings corresponded with his own ideas about conformity and the will of the individual. He received a degree in French in 1950 and began to consider a career as a writer.
Several teaching jobs followed: a year lecturing in English literature at the University of Poitiers, France; two years teaching English at Anargyrios College on the Greek island of Spetsai; and finally, between 1954 and 1963, teaching English at St. Godric's College in London, where he ultimately served as the department head.
The time spent in Greece was of great importance to Fowles. During his tenure on the island he began to write poetry and to overcome a long-time repression about writing. Between 1952 and 1960 he wrote several novels but offered none to a publisher, considering them all incomplete and too lengthy.
In late 1960 Fowles completed the first draft of The Collector in just four weeks. He continued to revise it until the summer of 1962, when he submitted it to a publisher; it appeared in the spring of 1963 and was an immediate best-seller. The critical acclaim and commercial success of the book allowed Fowles to devote all of his time to writing.
In 1965, Fowles' third novel, The Magus--drafts of which he had worked on for over a decade-- was published. Among the seven novels that Fowles has written,The Magus has perhaps generated the most enduring interest and has become something of a cult novel, particularly in the U.S.
The most commercially successful of Fowles' novels was The French Lieutenant's Woman, which appeared in 1969. The novel was the winner of several awards and was eventually made into a well-received film starring Meryl Streep in the title role; it is the book that today's casual readers most associate with Fowles.
In the 1970s, Fowles worked on a variety of literary projects--including a series of essays on nature--and in 1973 he published a collection of poetry, Poems. He also worked on translations from the French, including adaptations of Cinderella and the novella Ourika. His translation of Marie de France's 12th Century story Eliduc served as an inspiration for The Ebony Tower, a novella and four short stories that appeared in 1974. Fowles also wrote a variety of non-fiction pieces including many essays, reviews, and forwards/afterwords to other writers' novels. He wrote the text for several photographic compilations.
Since 1968, Fowles lived on the southern coast of England in the small harbor town of Lyme Regis (the setting for The French Lieutenant's Woman). His interest in the town's local history resulted in his appointment as curator of the Lyme Regis Museum in 1979, a position he filled for a decade.
The first comprehensive biography on Fowles, John Fowles--A Life in Two Worlds, was published in 2004, and the first volume of his journals appeared the same year (followed recently by volume two).
John Fowles died on November 5, 2005 after a long illness.