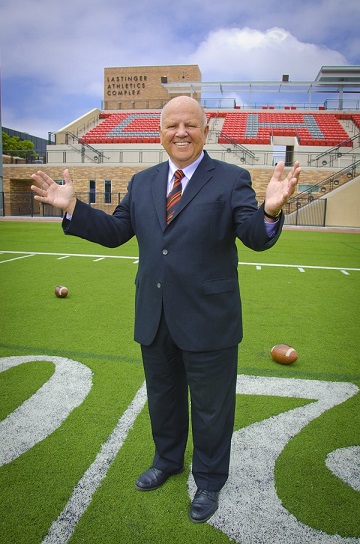 The Chapman Family and athletes from every sport are coming together to create the David Currey Director of Athletics Endowed Fund at Chapman University. Be part of that winning team.
Your support of this fund will bolster the work of our new director, Terry Boesel. Gifts of any size are welcome as we aim toward our $1 million goal. A generous challenge gift of $100,000 has been made thanks to Chapman Trustee Parker Kennedy. Your support to match this challenge will help us reach the full goal for the fund. Every gift counts towards the match! Your support will help us go the distance and reach that goal.
David Currey devoted his life to improving athletics at Chapman University. During his tenure, the number of athletics teams grew to 20, and the University became the ninth member of the Southern California Intercollegiate Athletic Conference. Today, thousands of Chapman alumni remember great days on the field, court, track, course, and on and in the water. This is a great opportunity to thank David Currey for all he did to make those memories possible.