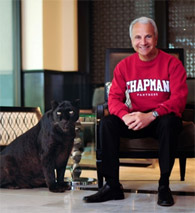 James L. Doti, Ph.D., was elected 12th president of Chapman University on June 11, 1991 and assumed his duties on July 1, 1991.  He has held the university's Donald Bren Distinguished Chair in Business and Economics since 1999.
Jim Doti was born in Chicago, Illinois on September 26, 1946, the son of Roy Doti and Carmelina Siracusa Doti.  He earned his bachelor's degree in economics from the University of Illinois, Chicago, where he was an Edmund James Scholar. He received his master's and doctorate degrees in economics from the University of Chicago, where he was an Edward Hilman Fellow and a National Science Foundation Fellow.
Dr. Doti joined the Chapman faculty in 1974.  In 1978, he founded the Center for Economic Research, which became A. Gary Anderson Center for Economic Research in 1997. He was appointed dean of the School of Business and Management (today's George L. Argyros School of Business and Economics) in 1985, and served twice as Chapman's acting president in 1988 and 1988-89.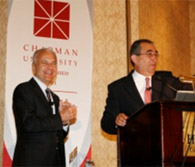 In 1978, Dr. Doti and his students developed the  first quarterly econometric model for a metropolitan area – the Chapman Econometric Model.  In recognition of his work, Dr. Doti was among the first recipients of Chapman's Faculty Recognition Award for Teaching and Research.  The model continues to be used as a teaching tool at the university, with students actively involved in developing the forecasts that are presented at the Economic Forecast and Economic Forecast Update conferences. These events attract large audiences of business and civic leaders who rely on Chapman's forecasts in making their planning and investment decisions. In December 2012, Dr. Doti and his colleague Dr. Asmael Adibi presented the 34th annual Economic Forecast Conference at the Segerstrom Performing Arts Center in Orange County, CA before more than 2,000 people.  It is the longest running economic forecast in the nation.
Dr. Doti co-authored two textbooks, Econometric Analysis: An Application Approach, published by Prentice Hall (1988), and The Practice of Econometrics with EViews (1998). He also co-edited a collection of readings in private enterprise, The Market Economy: A Reader (1991), which received the Templeton Honor Award for Scholarly Excellence.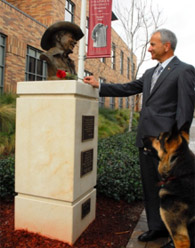 While serving as president, Dr. Doti has continued his scholarly research, focusing not only on econometric forecasting but also on demand and pricing for higher education. His articles have appeared in professional journals as well as the Wall Street Journal and Chronicle of Higher Education. He has published numerous op-eds, including memories of his personal heroes – people like Milton and Rose Friedman, Ronald Reagan and Henry Salvatori, and his parents, Roy and Carmelina Doti.
Over the years, Dr. Doti has been continually recognized for his achievements through various accolades. He received the George Washington Honor Medal from the Freedoms Foundation at Valley Forge (1986) in recognition of his "Little Italy" series of articles that appeared in The Freeman. He is the recipient of The National Conference Humanitarian of the Year Award (1996), the Forum for Corporate Directors Director of the Year Award (1997) and the Ellis Island Medal of Honor (2007). He was named Western Region CEO of the Year by the Council for the Advancement and Support of Education (CASE) in 1996.  In 2002, he was inducted into the Horatio Alger Association of Distinguished Americans.
Dr. Doti is a member of the Board of Directors of the Association of Independent California Colleges and Universities, and served as its chair from 1999 to 2005. He was a member of the Board of Directors of the National Association of Independent Colleges and Universities from 2006-09. He has also served on a number of higher education and governmental advisory boards, councils and committees.
Dr. Doti has journeyed across the nation and around the world to run marathons and climb mountains.  He started running in 2002, as part of his training to climb Mt. Whitney. Since that time, he has run more than 30 marathons, including six Boston Marathons, and climbed four of the famed Seven Summits, and he has written extensively about his adventures.  (See Adventure Resumé and Publications)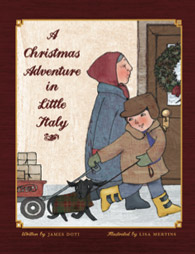 In 2010, he published a children's book, A Christmas Adventure in Little Italy.  His remembrance of a childhood holiday with his grandmother and his dog is illustrated by Lisa Mertins.  The book was on Amazon.com's top-100 list for children's holiday books from October to December 2010, and was selected by Italian America magazine for its Fall 2010 Book Club.
He and Lisa are now collaborating on their second children's book, Jimmy's Adventure on Stage. They are chronicling their experience in creating the book through a blog called "Creating a Children's Book and Blogging About It" so that others who dream of doing a children's book can see first hand what's involved in producing a finished book.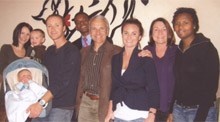 He is married to Dr. Lynne Pierson Doti, who is the Stone Professor of Economics at Chapman. They live in Villa Park with their cats, Tommy and Mitzie. They have two grown children, Adam and Cara, and two grandsons, Parker James and Griffin. They also have in their family a young man, Beatus Mushi from Tanzania, and a young woman, Gladys Mburu from Kenya. Both attended Chapman as Schweitzer Scholars and earned degrees in the Argyros School of Business and Economics.