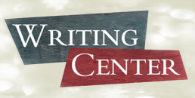 CHAPMAN NOTICE: The Writing Center will be open for the Fall 2020 semester via asynchronous digital tutoring and synchronous Skype "walk-in" hours. There will be no in-person hours in DeMille Hall. The schedule will be posted when it becomes available.
The Writing Center is open every semester (digitally only for Fall 2020) beginning the second week of classes and closing on the last day before finals. We are closed during the summer.
For information on graduate writing tutoring, available during the summer, please visit the Graduate Writing Assistants webpage.