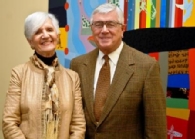 In 1986, Phyllis and Ross Escalette, along with their three children, started Brasstech/Newport Brass, a plumbing products manufacturer based in Santa Ana.  By the time they sold it in 2001, the company had grown into a successful Orange County business with more than 500 employees.
Ross joined Chapman University's Board of Governors in the 1990s and served as chairman for two terms. During that time, the Escalettes became interested in the Chapman Art Collection, especially after meeting the Collection's dynamic curator at that time, Maggi Owens. They were intrigued by the Collection's accessibility to both the campus and local communities and its potential as an educational and cultural resource.
In 2009, the Escalettes established an endowment for the Chapman Art Collection, which was renamed the Phyllis and Ross Escalette Permanent Collection of Art in honor of their generosity.  Funds generated by the Escalette Permanent Art Collection Endowment continue to support the operation and expansion of the collection. 
In an excerpt from their introduction to The Chapman University Collections, a book published during the university's 150th anniversary year, Ross shared his and Phyllis's reasons for their generous gift: "We like to give to organizations where we can see the funds being put to immediate and visible use. Chapman University and the Art Collection fill that requirement in every way."
Ross served on the Board of Trustees of Chapman University and was also a trustee at the Palm Springs Art Museum. After Ross passed away in 2013, followed by Phyllis at the end of 2014, their daughter, Suzanne, has continued to play an active role in the collection, seeing it as a continuation of her parents' legacy.