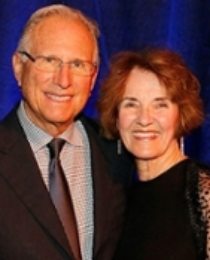 Since collecting their first California Scene paintings in 1992, Mark and Janet Hilbert have built one of the most comprehensive collections of Californian artists in the world, which they are now delighted to share with Chapman University students and the public.
Mr. Mark Hilbert graduated from Cal Poly, San Luis Obispo in 1966 with a degree in engineering and went on to invent a new energy-saving air conditioning product. In 1988, he founded Hilbert Property Management, based in Newport Beach.
Mrs. Janet Hilbert holds a master's degree and teaching credential from USC, and served as professor of business at Santa Ana College for 35 years.
Mark and Janet wed in 1994, and have three children and six grandchildren.