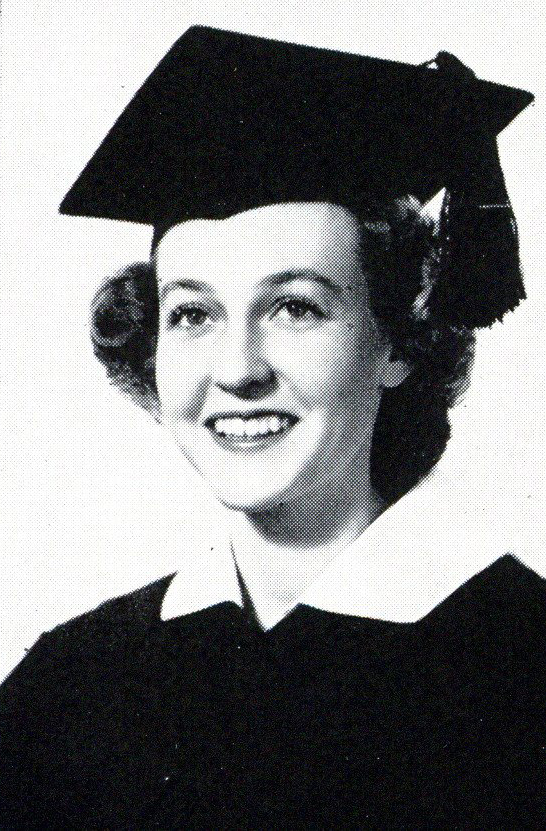 One Teacher's Journey – Joan Turner Cox
Had I known when I was a Chapman student that teaching was to become my career, I would have taken at least a couple of education courses before I graduated.
After graduation in 1949, I worked as an assistant to a medical doctor, at fifty cents per hour.  Next I was a refer authorizer in the credit office at Bullock's, a department store.  My pay was fifty cents per hour.
Then I decided to become a teacher.  Why?  The pay was good; the hours were good; the vacations were good.  A friend suggested that I enroll in a couple of summer session classes at Redlands University, then start teaching in the fall at a San Bernardino County school.
The course work for the methods classes of teaching reading and math was easy.  But the joy of that summer experience for me was visiting the Redlands University summer demonstration school.  Each morning, I observed for an hour in the grade three class.  The teacher made the social studies unit of Hopi Indians come to life.
She taught reading, math, history, spelling, music, science, and social manners – everything, by allowing the youngsters to teach themselves about Hopi Indians.  She did this primarily through class discussion, construction, dramatic play, and evaluation.
Toward the end of the first session, while having a snack in the university coffee shop, the gentleman on the stool next to me started chatting about summer school.  As he got up to leave, he gave me his card, saying, "If you want a teaching job in the fall, give me a call."  He was C. Burton Thrall, Superintendent, San Bernardino County Schools.
And that is how I started teaching grade three at Hinkley Elementary.  For anyone who has not seen the film Erin Brockovich, Hinkley is an isolated desert community twelve miles from Barstow.  It did not take me long to conclude that C. Burton had not been interested in finding a good position for me.  He just needed someone for a hard-to-fill slot.
Teaching at Hinkley was a do-it-yourself job.  Everything I did was the way the curriculum that I had learned through my observations at the Redlands University summer demonstration school: setting standards of behavior with the youngsters, speaking softly, getting to know each child as an individual, praising often, and establishing groups based on ability and interests.  But a daily lesson plan covering curriculum always came first.
Hinkley is a village, not a town.  Opportunities for fun were few.  Occasionally, something new presented itself.  One day Bob, my principal, asked me if I wanted to buy some homestead land at fifty dollars for two and a half acres.  I of course bought my little piece of property.  Years later, when I was living in Upland, I sold it for $8,000.
During the summer after that first teaching year, I bought a house in Barstow.  My thinking at the time had been that I would teach at Hinkley forever.
Lucy Siegrist, my supervisor, had another plan.  After teaching one more year, Lucy told me of a grade four teaching assignment in Yucaipa.  This would be in civilization, close to Redlands.
The next couple of years passed quickly.  There was marriage, a baby girl, three summers teaching (not observing) at that renowned Redlands University demonstration school.  Lucy had then found a teaching position for me at Mission Elementary, the San Bernardino County demonstration school in Redlands.  We then moved to Upland and I had to start over.  Commuting from Upland to Redlands would have been too difficult.
Going from elementary teaching to secondary did not seem like a sharp jump at the time, but that is what happened.
While taking a curriculum class at Claremont Graduate School a colleague, Al, asked if I would like to do some team teaching at Upland High.  Al Smith was the superintendent of the Chaffey District, something I didn't know at the time.  After little thought I accepted.  Upland High was five minutes from my home.
This team assignment was basic English, grade ten.  My two teammates, Marian and Evelyn, were to teach grades nine and eleven.  Our team approach worked well, especially since we were given one free period each day in which to meet to develop curriculum and coordinate activities.
After a few years of this assignment, I became department chair of special education.  The most difficult challenge of that experience was sitting in on the parent conferences called by each of the other special education teachers.  Let's just say that some of the parents wanted more for their children than some of the teachers could or were able to deliver.
During my thirty years as a teacher I worked in four school districts.  Looking back I do not recall ever applying for a position.  Each assignment pretty much fell into my lap.  Each job was vastly different from the others, and every few years a new opportunity presented itself.
My starting salary at Hinkley was $3,300 per year.  My ending salary at Upland High was $34,000.  I picked up needed credentials along the way, starting with an Emergency Elementary, then Life Elementary, General Secondary Life, Resource Specialist Certificate of Competence, and Learning Handicapped Specialist.  My M.A. was earned from Cal State L.A. in 1969.  Claremont Grad School, ten minutes from my home in Upland, had become much too expensive.
Obviously I did not go into teaching with a long-range plan.  What worked for me was luck.  I loved the challenges.  If a prospective teacher ever asks me for advice, I would recommend that he think long and hard after high school graduation about his strengths and weaknesses, of where he would enjoy living, the grade level he finds fascinating, and the subjects in which he excels.  Finding a satisfying career should never be left to luck.
---
Joan Turner Cox graduated from Chapman University in 1949 with a Bachelor of Arts degree in English.  Barbara Tye, former Dean and Professor Emerita of the College of Education recalls that sometime during her deanship (1989-1993), she received a phone call from Joan Turner Cox.  Joan introduced herself as a Chapman graduate and retired teacher now living in Newport Beach, and expressed an interest in supporting the School of Education (as it was known as at the time).  Barbara and Joan met occasionally when Joan attended Town & Gown events.  Over the years, the two would meet down in Newport to have lunch at the Cannery.  "We became friends and continued to meet long after I was no longer the dean," Barbara said, "For me, it has been a very special relationship with a remarkable woman whom I admire tremendously."  Joan Turner Cox has supported the College of Educational Studies through the Joan Turner Cox Fellowship Fund, in which graduate students are awarded scholarships based on their demonstration of excellence in the field of education, and the Ken and Barbara Tye Fellowship fund.