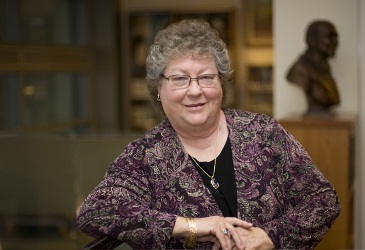 Donna Ford grew up in Victorville, California; a small, high desert town on the celebrated Route 66 that ran from California to Chicago. It is about 100 miles north and a world away from where Donna's calling would ultimately lead her.
A youth leader in her church, Donna spent summers as a counselor at a nearby camp in the San Bernardino mountains. Dennis Savage was the director of the camp and a trustee at what was then Chapman College. He encouraged her to apply to the small liberal arts school that had been training teachers since 1861.
Donna was destined to be an educator; it was in her DNA. Her mother, grandfather, and aunts were teachers and her uncle was a superintendent. Donna chose Chapman because it had "a respected program and was the right size for a small town girl. Everything else was so big it scared me," she recalls. She received an excellent education from professors who knew her personally, not as a number. Donna has very fond memories of her years at Chapman.
When Donna graduated in 1961, California was in a growth spurt and was desperate for good teachers. She immediately had offers from three Southern California districts and chose the Cypress School District because it promised her she could teach kindergarten, which she did for 19 years. When she "finally knew the alphabet" she "graduated to first grade," where she taught for another 21 years.
Donna has simple counsel for young teachers. "Put children first," she says. "They need time and gentleness to learn how to learn." Donna believes reading and writing skills will come when a child is ready.
In the meantime, one of the greatest gifts a teacher can give a child is "the chance to be a kid," to learn to share and play with others. She says they may not remember when and how they learned to read, but they will always remember learning how to be a friend.
In 1962, Donna married Fahmy Attallah, a noted school psychologist, philosopher, author, and Olympian. They were married for 43 years and because they never had children of their own, they dedicated their lives to serving the students in their charge. Ultimately, Fahmy's health deteriorated and Donna retired after 40 years in the classroom to be with him.
Over the years, Donna and Fahmy have been extremely generous to Chapman in significant ways, including the Donna Ford and Fahmy Attallah, Ph.D. Library of Arts and Humanities, an Endowed Chair of Church Relations, and an Endowed Professorship at the College of Educational Studies. After Fahmy's death, Donna dedicated the Fahmy Attallah, Ph.D. Piazza in his memory. Reminiscent of some of the great Italian piazzas, it is the heart of the Chapman campus and a gathering place for fellowship and celebrations.
The Chapman University community is extremely proud of Donna's professional achievements, touched by her spirit and humanity, and grateful for her boundless affection for Chapman University, its faculty and students. She truly is our beloved, Guiding Angel!