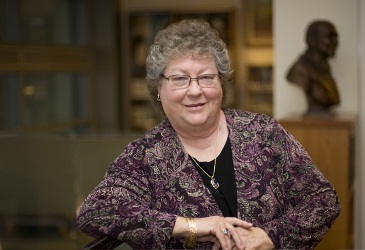 The namesake of Chapman University's
 Donna Ford Attallah College of Educational Studies 
grew up in Victorville, California, a small, high desert town on the celebrated Route 66 that runs from California to Chicago. It is about 100 miles north and a world away from where Donna Attallah's calling would ultimately lead her.
A camp youth leader in high school, she was encouraged to apply to what was then Chapman College, a small liberal arts school that had the distinction of training educators since 1861. Donna chose Chapman because it had "a respected program and was the right size for a small town girl. Everything else was so big it scared me," she recalls.
Donna was destined to be an educator; it was practically in her DNA. Her mother, grandfather, and aunts were teachers and her uncle was a superintendent. At Chapman, she received a personalized education from professors who came to know her personally, not as a number or an indecipherable face in a lecture hall. Blooming from her fond memories of her years at Chapman grew a lifelong dedication to learning, educating and kindly serving others – a passionate, shared ethos that is the heart of Attallah College.
She graduated from Chapman College with a bachelor of arts in education in 1961 and soon began her decades-long career with the Cypress School District teaching kindergarten and first grade.
Donna has kind and simple counsel for beginning teachers:
"Put children first . . . they need time and gentleness to learn how to learn."
One of the greatest gifts a teacher can give a child is "the chance to be a kid," and to learn to share and play with others.
Reading and writing skills will come when a child is ready. Children may not remember when and how they learned to read, but they will always remember learning how to be a friend.

In 1962, Donna married Fahmy Attallah, a noted school psychologist, philosopher, author, and Olympian. They were married for 43 years and not having children of their own, dedicated their life together to serving the students in their charge. Donna and Fahmy extended a deep generosity to Chapman, including the Donna Ford and Fahmy Attallah, Ph.D. Library of Arts and Humanities, an Endowed Chair of Church Relations and an Endowed Professorship at the College of Educational Studies.

When Fahmy's health deteriorated, Donna retired after 40 years in the classroom to be by his side. After Fahmy's death, she dedicated the Fahmy Attallah, Ph.D. Piazza in his memory. Modeled to evoke the great Italian piazzas, it is the heart of the Chapman campus and a gathering place for fellowship and celebrations.

In recognition of Donna's decades of philanthropy and leadership, Chapman University was honored to name the College of Educational Studies in her honor in August 2017. The renaming was announced to the Chapman Family during the Opening Convocation ceremony.

"Donna is such a special person to Chapman – it just makes perfect sense to name the College of Educational studies after her – an alumna and longtime teacher," said Chapman University President Daniele Struppa at the event announcing the naming of Attallah College. "She loves the students, the classroom, and teaching; her nurturing demeanor, patience for learning, and sense of humor are her special blend she brings to the teaching profession and to her friendship to Chapman – Attallah College now has that legacy for its namesake and future graduates."