Graduate Admission
---
Interview with Dielle Fernandes
»

Interview with Dielle Fernandes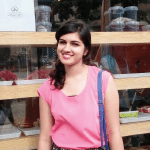 Dielle came to Chapman from India and earned her MS in Food Science.
Here's her advice for international students at Chapman.
Why did you choose Chapman?
Its diverse course options, location and opportunities provided.
How was your transition coming to Chapman?
It was challenging, but the diverse individuals at Chapman helped me transition easily. I learned a lot in my first semester and the faculty are very encouraging.
What have you enjoyed about your time as a student here?
I have enjoyed all the multiple intercultural events and opportunities presented at Chapman.
My flexible class schedule gives me time to volunteer off-campus at the AIDS Service Foundation in Orange County and help confirmation students at the Holy Family Cathedral in Orange.
With regards to Chapman's student life, the University being close-knit makes it easier to provide personalized education for students. Also, the diversity and inclusion at Chapman helps international students realize their full potential.
What services and resources have helped you the most in development for your future career?
Career and Professional Development has organized the Career Passport program for international students. This helped a lot with my professional development skills, like building my LinkedIn profile, resume writing and interactions in formal settings.
The Tutoring and Learning Center has helped me improve my scientific writing skills and formation of sentences.
Besides these, my Food Science program has organized Networking Night, dinner meetings with the Southern California Institute of Food Technologists and conferences that provided networking opportunities with professionals.
What advice would you give to someone considering Chapman?
This university is worth it! Chapman really is the place to grow as a global citizen and attain a quality education. The excellent location and weather is an added bonus.
For those applying to U.S. schools, integrity is key. The tuition is worth the education. Apply early and never give up!
---