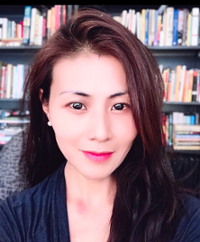 Dr. Rei Magosaki
Associate Professor
Wilkinson College of Arts, Humanities, and Social Sciences; Department of English
Office Location: 428 Glassell, Room 107
Office Hours: T 1-5 p.m.
Education:

Amherst College, Bachelor of Arts
The University of Virginia, Ph.D.
Biography
Rei Magosaki is a specialist in the field of twentieth- and twenty-first century American literature and culture with an emphasis on contemporary and multicultural U.S. literatures, approached through the transnational frameworks of modernity and globalization. She received her PhD in English from the University of Virginia and B.A. magna cum laude in English and French from Amherst College. She has taught courses in multicultural literatures of the U.S., Asian American literature, U.S. fiction after 1950, contemporary U.S. literature, American short stories, and Japanese literature in translation.  
Dr. Magosaki writes in both English and in Japanese, and her scholarly essays have been published in the U.S., Japan, India, and elsewhere, including contributions to the African American National Biography (Oxford University Press, 2007), Japanese Education and Theories of Textual Analysis (Tokyo: Hitsuji Shobo Press, 2009), Reflections on World Literatures (Jaipur, India: Yking Books, 2011), and Ecocriticism in Japan (forthcoming, New York: Rowman and Littlefield). She was awarded Chapman's faculty grant for scholarly activity in 2011 and in 2012, and was a Japan Foundation of New York scholar-in-residence at Florida Atlantic University during 2013-2014.  She has a regular column in Japanese at Sayusha, a literary press in Japan, entitled "Dispatches from Southern California:  With Love from the Land of Sunshine".
Her monograph, Tricksters and Cosmopolitans:  Cross-Cultural Collaborations in Asian American Literary Production, is forthcoming from Fordham University Press in Spring 2016.  It is the first sustained exploration into the history of cross-cultural collaborations between Asian American writers and their non-Asian American editors and publishers.  The volume focuses on the literary production of the cosmopolitan subject, featuring writers Sui Sin Far, Jessica Hagedorn, Karen Tei Yamashita, Monique Truong, and Min Jin Lee.  The newly imagined cosmopolitan subject which emerges from their works dramatically reconfigured Asian American female subjectivity in metropolitan space with a kind of fluidity and ease never seen before.  But as Rei Magosaki shows, these narratives also expose the problematic side of this figure, which also serves to perpetuate exploitative structures of western imperialism and its legacies in late capitalism.  Arguing that the actual establishment of such a critical standpoint on imperialism and globalization required the expansive and internationalist vision of editors who supported, cultivated, and promoted these works, Tricksters and Cosmopolitans reveals the negotiations between these authors and their publishers, between the shared investment in both politics and aesthetics that influenced the narrative structure of key works in the Asian American literary canon.
Faculty Research
http://www.academia.edu/650148/_The_Global_Citizen_and_Troubled_Narration_
http://www.amazon.co.jp/dp/4894764253/
http://fordhampress.com/index.php/tricksters-and-cosmopoitans-paperback.html
Recent Creative, Scholarly Work and Publications

"The Global Citizen and Troubled Narration in Bharati Mukherjee's The Middleman and Other Stories" in Reflections on World Literatures. Ed. Nilanshu Agarwal (Jaipur: Yking Books, 2011)

"An Introduction to U.S. Literary Criticism in the Twentieth Century," Nihongo Kyouiku to Tekusuto Ron[Japanese Education and Theories of Textual Analysis]. Ed. Yasue Suzuki, Shin Takagi, Kouitsuro Sukegawa, Tomooki Kuroki (Tokyo: Hitsuji Shobo Press, 2009).