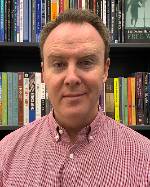 Dr. Michael Robinson
Assistant Professor
Schmid College of Science and Technology; Department of Philosophy
Office Location: Hashinger Science Center 206
Office Hours: By appointment
Education:

Biola University, Bachelor of Arts
Texas Tech University, Master of Arts
Florida State University, Ph.D.
Biography
Michael Robinson (Ph.D., Florida State University; M.A., Texas Tech University) is an Assistant Professor of Philosophy. His primary research interests are in Ethics, Philosophy of Action, and Metaphysics--particularly, free will and moral responsibility, human agency, moral obligation, blame, and punishment. His recent publications include "Truthmakers, Moral Responsibility, and an Alleged Counterexample to Rule A" (Erkenntnis 2016); "Revisionism, Libertarianism, and Naturalistic Plausibility" (Philosophical Studies 2015); and "The Limits of Limited-Blockage Frankfurt-Style Cases" (Philosophical Studies 2014). Dr. Robinson teaches courses on free will and moral responsibility, ethics, medical ethics, business and professional ethics, and logic.
Recent Creative, Scholarly Work and Publications