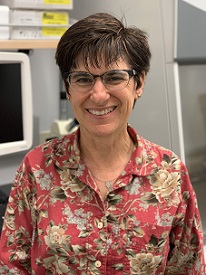 Dr. Melissa Rowland-Goldsmith
Associate Professor, Co-Director, Center for Excellence in Teaching and Learning
Instructional Faculty

Schmid College of Science and Technology; Biological Sciences
Crean College of Health and Behavioral Sciences; Health Sciences
Office Location: Keck Center for Science and Engineering 263
Education:

Chapman University, Bachelor of Science
University of California, Riverside, Ph.D.
Biography
Throughout Dr. Rowland-Goldsmith's many years of service to the Chapman community, she has been recognized as a leader in pedagogical innovation by her students and peers at Chapman University (Chapman University Pedagogical Innovation Award 2018; Chapman University Outstanding Senior Teaching Professorship Award 2016; Achievement Award for Excellence in Teaching 2007 and 2014; 2015 Chapman Residence Life Most Inspiring Professor Award) and increasingly by the national science community (National Academies of Science Education Fellow in the Life Sciences 2011-12; National Academies of Science Education Mentor in the Life Sciences 2012-13; ASM Biology Scholars Research Residency 2014-15). Furthermore, Dr. Rowland-Goldsmith has participated in several highly competitive teaching development workshops including the 2011 National Academies of Sciences Summer Institute; 2013 CREATE workshop; and 2014-15 ASM Biology Scholars Research Residency. Finally, she has been asked several times to review select chapters in molecular biology textbooks.
Through her unique teaching style, she embraces the opportunity to change countless students' lives by introducing them to a varied and holistic approach to the study of molecular biology. The outcomes of many of her students are representative of what can be seen from using many unique and special teaching methods. Several former students have remarked that her courses helped to prepare them for graduate or professional schools. She believes that she and the students have shared ownership of their education and she works as a coach/facilitator to ensure they are gaining the knowledge they need to succeed as both successful scientists and consumers. Some recent comments from student evaluations, in no particular order, include: "In-class activities were very helpful in making students think critically…"; "The most effective aspect would have to be the application of complicated processes in all quizzes and tests. There were never easy questions like true/ false."; "The most effective aspects of the course were the group/partner activities and class discussions where I was able to discuss and debate something to better my understanding of the subject"; and "The CREATE method was very helpful as far as breaking down and understanding academic writings."
Research Interests
Dr. Rowland-Goldsmith's research interests focus on training undergraduate students to utilize molecular biology techniques to study pancreatic cancer inhibition and invasion when treated with various agents including pomegranate extract and caffeine. She also engages in biology education research to create better learning experiences for  molecular biology students. Currently, she is studying the experimental design of Course-based undergraduate research experiences (CURE) in the advanced molecular genetics course. She is also creating unique in-class critical thinking activities that can be used in upper division molecular genetics courses.
Teaching
BIOL/BCHM 208 Introduction to Molecular Genetics
Bio/ /BCHM 208 Introduction to Molecular Genetics laboratory
BCHM/ BIOL 436 Molecular Genetics laboratory
BCHM/ BIOL 401 Cancer Biology
Recent Creative, Scholarly Work and Publications

Hsu J, Rowland-Goldsmith M. (2021) "Student perceptions of an inquiry-based molecular biology lecture and lab following a mid-semester transition to online teaching." Biochemistry and Molecular Biology Education. 49 p 15-25.

Rowland-Goldsmith M.A. (2012) author of power-point lectures (chapter's 1 through 4) for Thieman and Palladino's Introduction to Biotechnology, 3rd edition textbook, Benjamin Cummings Publishing, San Francisco, CA

Akahoshi,L., Berrigan,E., Boone,M., Chesne,R., James,C., Lawless,N., Punton,S., Singh,H., Swinford,N., Zylstra,A. and Rowland-Goldsmith,M. (2011) Jacaranda mimosifolia glyceraldehyde-3-phosphate dehydrogenase (GAPC-1) gene, partial cds. GenBank accession #JF440302.1 http://www.ncbi.nlm.nih.gov/nuccore/JF440302.1