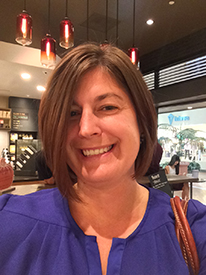 Dr. Lisa Leitz
Associate Professor, Delp-Wilkinson Endowed Chair in Peace Studies
Chair, Department of Peace Studies

Wilkinson College of Arts, Humanities, and Social Sciences; Department of Peace Studies, Department of Sociology
Expertise: Peace/War; Activism/Protest; Military/Veterans; Social Movements; Feminist/Women's movements
Office Hours: By Appointment
Education:

Albion College, Bachelor of Arts
The Ohio State University, Master of Arts
University of California, Santa Barbara, Ph.D.
Biography
Dr. Lisa Leitz currently serves as the Delp-Wilkinson Endowed Professor and the Department Chair of Peace Studies and is also an Associate Professor of Sociology at Chapman University. Previously, she was an Assistant Professor at Hendrix College in Conway, Arkansas. She obtained a doctorate in Sociology from the University of California, Santa Barbara and her Masters from Ohio State University, where she was a Presidential Fellow. Her research and teaching focuses on the role of identity and culture in attempts to make peace and address injustice. She has won the Chapman University, Wilkinson College Student Choice for Excellence in Teaching and Mentoring Award in 2017 and the University's Excellence in Research Award in 2016. She is a Rotarian and has served on boards for peace organizations and veterans' committees. Dr. Leitz greatly enjoys using experiential learning to introduce students to data and new ideas. In addition to working closely with students on research and service projects in the areas around her campuses, she has led travel programs in the United States, Middle East, Europe, and Central America. Recently, she spearheaded Chapman University's successful effort to join Phi Beta Kappa, the oldest and most prestigious honors' society in the United States.
In November, Dr. Leitz took the reigns as the new Editor-in-Chief of the book series Research in Social Movements, Conflicts, and Change, published by Emerald, and later this year they will release Volume 43, Bringing Down Divides, which she is co-editing with Dr. Eitan Alimi of Hebrew University in Israel. Her book, Fighting for Peace: Veterans and Military Families in the Anti-Iraq War Movement, was published in the University of Minnesota Press and won the 2015 American Sociological Association's (ASA) Section on Peace, War and Social Conflict Outstanding Book Award. Later she was elected as Chair of that ASA Section, and she currently is serving on the Council for the ASA Section on Collective Behavior and Social Movements. In addition to her publications about peace movements, she has also published other notable works covering women's activism; gender in militaries, private security forces, and conflicts; veterans' health and reintegration; and physical fighting among girls.
Recent Creative, Scholarly Work and Publications