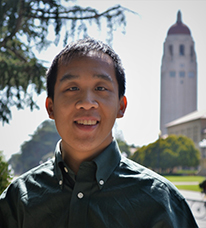 Dr. Jeremy Hsu
Assistant Professor, Program Advisor for Biological Sciences

Schmid College of Science and Technology; Biological Sciences
Office Location: Keck Center for Science and Engineering 262
Education:

Harvard University, Bachelor of Arts
Stanford University, Ph.D.
Biography
Dr. Jeremy Hsu is a biology education researcher, with broad interests in several main areas: 1) assessment of student learning, 2) exploration of factors that influence this learning as well as student perceptions and attitudes, and 3) development of inquiry-based activities. His current research projects include exploring student and faculty experiences with office hours and academic advising, investigating how students transfer knowledge into new contexts, and studying the impact of assessment question framing on student attitudes.

Trained as an evolutionary geneticist, Dr. Hsu teaches various courses on evolution, molecular genetics, and more. He is passionate about teaching and science education and strives to incorporate active learning and evidence-based instructional practices in the classroom. He is also active in the local community, including as a board member of the Orange County Science and Engineering Fair.
Recent Creative, Scholarly Work and Publications

Hsu J., Wrona A., Brownell S., and Khalfan W. 2016. The Explorations program: benefits of single-session, research- focused classes for students and postdoctoral instructors. J College Science Teaching 45(6): 78-86.

Zhan S., Zhang W., Niitepõld K., Hsu J., Haeger J.F., Zalucki M.P., Altizer S, de Roode J.C., Reppert S.M., and Kronforst M. 2014. The genetics of monarch butterfly migration and warning coloration. Nature 514: 317-321.