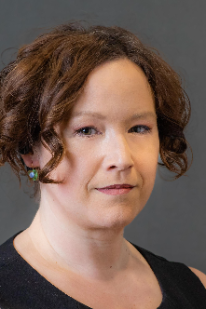 Dr. Jennifer Totonchy
Associate Professor, Associate Dean of Research and Graduate Studies

Expertise: Immunology; Virology; Molecular Biology; Flow Cytometry
Office Location: Rinker Health Science Campus 297R
Education:

Northwestern University, Bachelor of Arts
Oregon Health Science University, Ph.D.
Biography
Dr. Jennifer Totonchy joined CUSP on November 1, 2016 as an assistant professor of immunology and immunotherapeutics.  Dr. Totonchy completed her PhD in Molecular Microbiology and Immunology (working on subversion of host cytokine signaling by Human Cytomegalovirus and its contribution to solid organ allograft rejection) at Oregon Health and Science University in 2010 and did postdoctoral fellowships (working on the pathogenesis of Kaposi Sarcoma Herpesvirus in endothelial cells and B lymphocytes) at Oregon Health and Science University from 2010 to 2013 and Weill Cornell Medical College in New York City from 2013 to 2016.  In 2014, she was awarded a K99/R00 Pathway to Independence Award from the National Institute of Dental and Craniofacial Research in order to continue her work on the fundamental virology of Kaposi Sarcoma Herpesvirus infection in the human tonsil.  Dr. Totonchy has authored 13 peer-reviewed publications and 10 conference abstracts.
Research Interests
Dr. Totonchy's research is focused on Kaposi Sarcoma Herpesvirus (KSHV) and particularly on establishing how KSHV enters a human host by infection of cells in the oral lymphoid tissues.   Her research utilizes a variety of primary cell types from human tonsil tissue to determine the viral and cellular genes involved in early infection events.  Her recent work on KSHV infection of B lymphocytes has revealed novel mechanisms by which KSHV manipulates B cell physiology. In particular, Dr. Totonchy is interested in characterizing the contribution of functional viral proteins packaged into virus particles, known as tegument proteins to early events during B lymphocyte infection.  The study of KSHV tegument proteins in B lymphocytes has major implications for the prevention and treatment of KSHV-associated human disease but is also an intriguing system that can be used to uncover B lymphocyte-specific physiology in order to develop B cell-targeted immunotherapeutic paradigms for other diseases.
Recent Creative, Scholarly Work and Publications